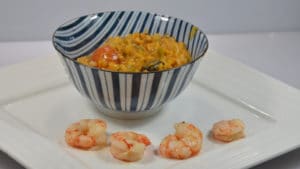 Wild Shrimp Risotto Recipe
Instructions
I like these Italian rices which are very soft and still very juicy, flavored with this delicious Muscadet from the Pays de la Loire (I chose this renowned producer in the region who has been operating these vines for years organically). To make your wild shrimp risotto a success, you must use the most famous Arborio-type special rice, but also Vialone nano rice. You will have to drown it in the wine so that it is filled with this delicious nectar, to then perfume itself with the saffron. No need for cream or mascarpone, if you respect the cooking times, the Parmesan will finish this wonderful wild shrimp risotto. Do not hesitate to add vegetables without overcooking them, they should still be a little crunchy to the bite, play with flavors but also and especially with colors.
Wild shrimp risotto recipe for 4 people:
Ingredients
300 gr of Arborio rice
400 gr of raw wild shrimp (frozen)
20 cl of Muscadet
100 gr of parmesan
1 onion
1 clove of garlic
10 cl of olive oil
1 chicken broth
1 dose of saffron powder
50 g butter
Salt and pepper
Instructions
Peel the onion and the garlic clove, then finely chop them.
Heat a pan with olive oil
Sear the onion and garlic.
Pour the rice into the pan, brown while mixing with a wooden spatula.
Add the Muscadet wine and reduce until almost dry.
Cover with water, add chicken broth and powdered saffron, it should barely cover the rice.
Gradually add the broth so that the rice is always covered.
Let the rice cook for 15 to 20 minutes on a low heat, it should just simmer, watch that there is no lack of liquid.
Add the Parmesan 5 minutes before the end of cooking.
Sear the shrimp in the pan with the butter just before serving.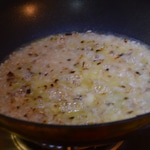 Cook the rice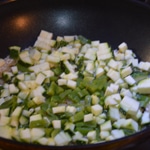 Add the herbs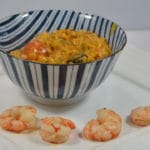 What wine to drink with: Wild shrimp risotto
My favorite wine for this recipe: Muscadet Sèvre et Maine sur Lie Melon de Bourgogne grape
Temperature between 08 ° and 10 °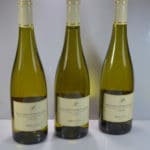 Bottles
Zoom
Partnership with Stéphane Orieux Domaine de la Brégeonnette in Vallet in Loire Atlantique
A thought to all those connected from France or abroad in love with French cuisine and its wines, here is a great opportunity for you to buy a quality wine, without any risk, to accompany my shrimp risotto recipe wild. I selected this Muscadet from Stéphane Orieux's estate after tasting it, I loved it.
Muscadet Sèvre and Maine sur Lie 2015
The Muscadet Sèvre et Maine sur Lie wine comes from a single grape variety, Melon B. Aging on fine Lies for at least 6 months and gives the wine roundness, fat freshness and persistence. The color is golden yellow, the nose reveals fruity aromas or even citrus, while the mouth will offer a nice freshness, its structure is underlined by some peppery touches.
Domaine de la Brégeonnette
Stephane Orieux
The key
44330 Vallet
Phone. 02 40 46 68 41
Mail: stephane.orieux [AT] wanadoo.fr </p