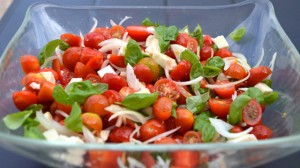 Recipe: Cherry tomato salad
Cherry tomato salad recipe. I bought the cherry tomatoes in the market from my market gardener, they are beautiful and colorful. I like to cook with these small tomatoes full of taste and full of colors, hot or cold we eat them at any time, even as an aperitif. This salad is flavored with basil which gives off a long scent that goes wonderfully with cherry tomatoes.
Recipe ingredients
Cherry tomato salad recipe for 6 people:
1 kilo of cherry tomatoes
250 g of feta
1 white onion
2 large sprigs of basil
2 tablespoons of olive oil
1 tablespoon of sherry vinegar
Salt and pepper
Instructions
Rinse the cherry tomatoes under the tap.
Slice the cherry tomatoes in half.
Rinse and then dry the basil.
Remove the leaves from the basil.
Peel then halve the onion and thinly slice.
Cut the cherry tomatoes in half.
Add the oil and vinegar to the tomatoes.
Cut the feta into cubes, then add it to the tomatoes.
Sow the basil leaves.
Salt and pepper.
Enjoy without moderation.
Preparation time: 10 minutes
Cooking time: 0 minutes
Number of people: 6
4 star rating: 1 review
What wine to drink with: Cherry tomato salad
My favorite wine for this recipe: Côte du Rhône rosé Grape Grenache noir, Cinsault, Syrah
Temperature between 08 ° and 10 °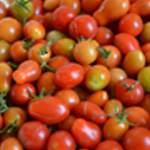 Cherry tomatoes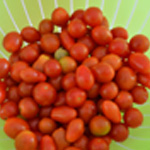 Rinse the tomatoes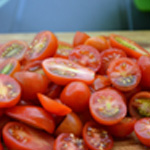 Cut the tomatoes in half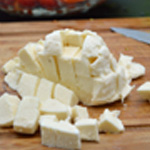 Cut the feta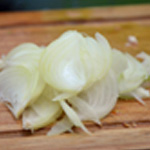 Slice the onions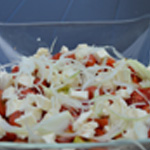 Add the onions and feta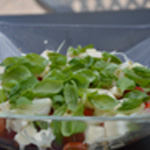 Chop the basil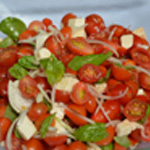 Zoom