Recipe: Zucchini and feta soup
Instructions
Zucchini and feta soup recipe here are the much cooler evenings. I like to eat good soups when autumn arrives, here a zucchini and feta soup. Quick to prepare, feta brings a touch of madness to this zucchini soup. At home we only eat ground soups, yes mademoiselle does not like pieces …. A beautiful color for this soup, I still had a large zucchini from my father's garden, it ended up in soup for the pleasure of all.
Recipe ingredients:
Zucchini and feta soup recipe for 4 people:
1 courgette
200 gr of feta
1 large onion
1 teaspoon of curry
1 teaspoon of paprika
1 tablespoon of olive oil
15 basil leaves
Instructions
Peel then thinly slice the onion.
Rinse the zucchini then cut into quarters and then into slices.
Sear the onions in the oil.
Add the zucchini and sear them well.
Sprinkle with the spices, salt and pepper.
Grab a little more.
Pour in the water and cook for about 10 minutes.
Add the basil leaves.
Add the cubed feta, keeping a little feta for decoration.
Mix the zucchini soup.
Salt and pepper.
Preparation time: 20 minutes
Cooking time: 10 minutes
Number of people: 4
4 star rating: 1 review
What wine to drink with: Zucchini and feta soup
My favorite wine for this recipe: Coteaux d'Aix en Provence Rosé Grape variety Cabernet sauvignon, grenache noir, Syrah
Temperature between 07 ° and 08 °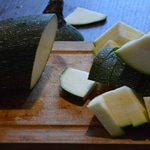 Slice the zucchini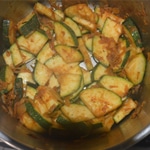 Sear the zucchini