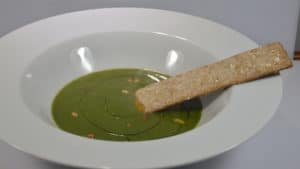 Arugula Velouté Recipe
A soup with a beautiful green color, I love it especially because it smells of spring and I need sun, need to open the windows all day. I served this soup with crostini mozzarella, a nice set to start our meal. I will try this cream served cold, just a little more garlic, like a gazpacho, but I will keep you posted and we will wait for a little more heat. It is surely the last soup that I propose to you, now we will move on to salads, finally and here are the gardens, the clothes hanging outside, the aperitifs under the arbors, I love spring!
Arugula velouté recipe for 4 people
Ingredients :
1 medium potato
200 g of arugula
1 clove of garlic
½ chicken stock cube
3 tablespoons of olive oil
Salt and pepper
1 teaspoon of pine nuts
Instructions
Peel the potato, then thinly slice it into slices.
Rinse the arugula, then dry it with food paper.
Peel the garlic, then chop it.
Heat a saucepan with a spoon of olive oil.
Brown the garlic.
Add the potato slices and sear them for 1 minute.
Add the arugula and sear it for a few minutes.
Pour 60 cl of water
Add the broth.
Salt and pepper.
Simmer for 15 minutes.
Grill the pine nuts for 10 minutes while the soup is cooking.
Pour the soup into the bowls, then sprinkle with a few pine nuts.
Pour a drizzle of oil on the soup then enjoy.
Preparation time: 10 minutes
Cooking time: 15 minutes
Number of people: 4
4 star rating: 1 review
A nice flavor for this arugula soup, and I also really like its color, you can smell spring is coming, phew! I served my soup with crostini.
What wine to drink with: Recipe Arugula velouté
My favorite wine for this Côte de Bourg blanc recipe Grape varieties: Sémillon, Muscadelle and Sauvignon blanc
Temperature between 8 ° and 10 °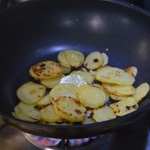 Sear the potatoes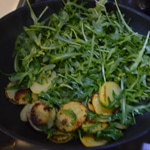 Add the arugula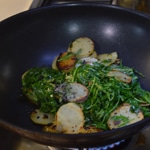 Let reduce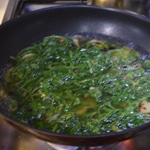 Cover with water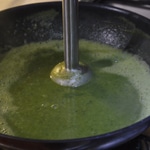 Mixer