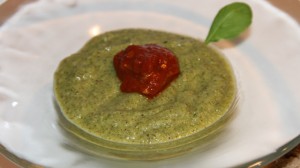 Recipe: Zucchini gazpacho with basil
Zucchini gazpacho recipe with basil, the zucchini from the garden are organic, no chemicals to grow them, papi René's zucchini, thank you for all these zucchini. Add the basil and a hint of garlic to savor this basil gazpacho, a starter for those hot summer days.
Recipe ingredients
Zucchini gazpacho with basil recipe for 6 people
700 g small zucchini
1 bunch of basil
1 clove of garlic
40 g of stale crumbs
5 cl of sherry vinegar
15 cl of olive oil
Guérande sea salt
1 can of peeled tomatoes
Instructions
Peel the garlic clove and mince it, brown it in olive oil, then add the tomatoes.
Let reduce 1 to 2 hours then mix and let cool.
Remove the ends of the zucchini, wash them, dry them and cut them into thick slices.
Place them in a covered container, after having lightly salted them and cook them for 6 to 8 minutes in the microwave.
Let cool. Then place them in an airtight box with the bread soaked in vinegar and 5 cl of olive oil overnight.
Transfer to the food processor bowl.
add the basil and mix, slowly pouring in the olive oil, until you obtain a smooth and fluid paste.
Add more or less water to get the consistency of your product. Serve with a few basil leaves.
Preparation time: 10 minutes
Cooking time: 0 minutes
Number of people: 4
4 star rating: 1 review
What wine to drink with: Zucchini gazpacho with basil
My favorite wine for this Tavel rosé recipe Grape variety: Grenache noir and cinsault
Temperature between 8 ° and 10 °