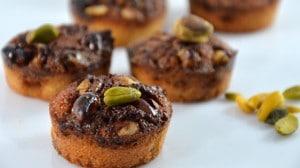 Recipe: Pistachio Financiers
Pistachio financier recipe, finally a beautiful ultra gourmet recipe, to use your egg whites. Everyone loved it and wanted more, not enough egg white at home. The roasting of the pistachio seeds and their caramelization in the sugar balls was a real spectacle. A completely exceptional recipe, I was doing financiers for several years, but here, the slightly modified recipe from Pâtissier Laurent Jeannin, it's really a killing and I moderate my expression.
Recipe ingredients
Pistachio financier recipe for 20 coins:
45 g icing sugar
45 g ground almonds
15 g flour
0.5 g of vanilla powder
60 g butter
1 egg white (35g)
125 g of pistachio
60 g of caster sugar
2 g vanilla extract
Instructions
Preheat the oven to 170 °
Sift all the powders together.
Cook the butter so that it becomes hazelnut.
Filter the butter through a Chinese.
Incorporate the egg white into the powders.
Then add the hot, but not boiling, brown butter.
Whisk the mixture to obtain a homogeneous paste.
Place in the refrigerator while you are going to roast the pistachios.
Roast the pistachios for 5 minutes in the hot oven.
Heat 40 g of water with the 60 g of sugar.
Bring the syrup up to 121 ° in order to obtain a ball of sugar.
Throw the pistachios in the balled sugar, they will crystallize.
Heat the pan with the vanilla extract and the crystallized pistachios.
Let the caramel lightly brown.
Pour the caramelized pistachios on a baking sheet and let cool.
Pour the dough into the half-filled silicone molds.
Roughly break the caramelized pistachios.
Add a few caramelized pistachios in the imprints on the dough.
Raise the oven to 200 °.
Bake the financiers for 10 to 15 minutes, it is safer to watch.