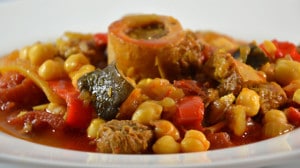 Recipe: Veal tagine with candied lemons
Recipe for veal tagine with candied lemons, I had to cook in three batches with my tagine because it was too small. This afternoon at home it feels like Morocco, so much the spices tickle our nostrils. I love all of these flavors that roam my house. In addition, the sun is in the game, all that is missing is the sound of the sea. I like these well spiced North African dishes, but not too much, just enough to shake up our habits. I love this explosion of flavors with the first bites, I love this sweet and salty side. This veal tagine with candied lemons was prepared for my niece's wedding. But the beautiful family is in the north and I have to prepare 2 days of meals in addition to the wedding. Well let's see where there is gene there is no fun, isn't it Nanie.
Recipe ingredients
Veal tagine recipe with candied lemons for 15 people:
3 kg of boneless veal shoulder
1 kg of veal with bone (blanquette)
4 marrow bones
6 tablespoons of olive oil.
4 red peppers
4 green peppers
4 zucchini
4 small cans of peeled tomatoes
3 onions
2 tablespoons of raz el hanout
1 tablespoon of turmeric
1 teaspoon of ground cloves
1 teaspoon of ground ginger
1 tablespoon of paprika
4 cinnamon pipes
3 candied lemons
125g flaked almonds
150g of raisins
Instructions
Rinse the vegetables under the tap.
Peel the onions, then cut them into rings.
Peel the vegetables and cut them into small pieces.
Trim the boneless meat and cut into cubes.
Heat the oil in the tagine (I had to take my large cast iron casserole dish).
Grill the marrow bones, let them brown well, then set aside.
Sear the meat in olive oil, turn it over, it should color all over, then set aside.
Add the onions to the fat of the meat and leave them for a few minutes.
Return the meat with the onions.
Add all the spices then mix again.
Pour in the peeled tomatoes.
Slice the lemons in four then add them to the tagine.
Sprinkle with flaked almonds and raisins.
Mix one last time, place the marrow bones.
Pour 25 cl of water.
Cover and cook for 1 hour 45 minutes, watching after an hour.
Preparation time: 60 minutes
Cooking time: 1 hour 45 minutes
Number of people: 15
4 star rating: 1 review
Which wine to drink with: Veal tagine with candied lemons
My favorite wine for this recipe: Trousseau rouge Cépage Poulsard, Trousseau, Pinot rouge
Temperature between 12 ° and 14 °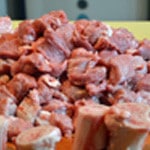 Cut the meat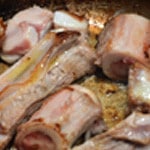 Sear bone and meat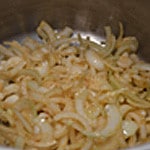 Sear the onions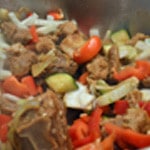 Add the vegetables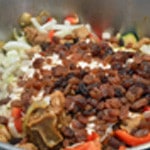 Add the raisins
Add the candied lemons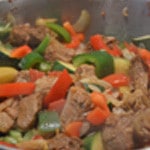 Add the peppers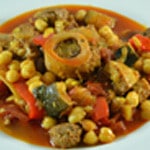 Zoom<img src="/wp-content/uploads/2021/09/6261774140288819326.jpg" class="aligncenter"