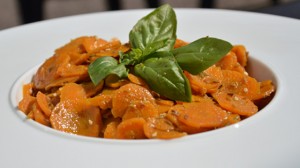 Recipe: Moroccan Carrot Salad
Moroccan carrot salad recipe, slightly cooked carrots flavored with cumin, served chilled, a pleasure to taste. A salad that changes the traditional salad of grated carrots. I love Moroccan cuisine with a thousand flavors, I love their way of cooking spices, I love their lamb tagine. This Moroccan carrot salad was served on the occasion of a salad buffet, it brings change and above all a beautiful color.
Recipe ingredients
Moroccan carrot salad recipe for 4 people:
600 g carrots
1 clove of garlic, mixed (or 1 teaspoon of garlic paste)
½ teaspoon of caraway
1 teaspoon ground cumin
½ teaspoon ground coriander
1 lemon
10 cl of orange juice
1 tablespoon of honey
15 cl of olive oil
½ bunch of chopped basil
Instructions
Peel the carrots, then cut them into thin slices, the ideal is to make the recipe entirely the day before, so that the carrots are flavored.
Cook the carrots in a wok and olive oil for a few minutes, cover the carrots with the vegetable broth.
They should stay a little crunchy.
Let them cool.
Peel and crush the garlic cloves, then add them to the carrots.
Pour the honey over the carrots
Squeeze the lemon over the honey.
Add the cumin grains and the ground.
Add the ground coriander.
Stir the salad to combine the carrot spices well.
Rinse the coriander with clear water, then dry there with food paper.
Finely chop the basil and add it to the salad just before serving.
Preparation time: 20 minutes
Cooking time: 0 minutes
Number of people: 4
4 star rating: 1 review
What wine to drink with: Moroccan carrot salad
My favorite wine for this recipe: Mercurey Cépage Pinot noir
Temperature between 14 ° and 16 °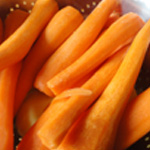 Peel the carrots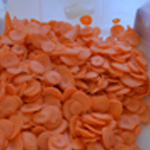 Slice the carrots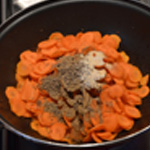 Season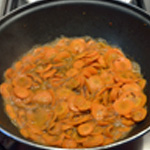 Wet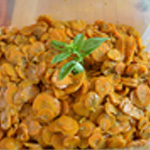 Refrigerate