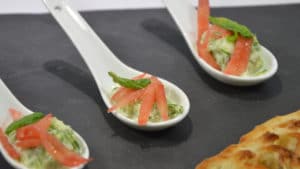 Zucchini spoon recipe
Small spoons ready in minutes. Very fresh they will be very appreciated during these great heat, you will devour these spooned zucchini. Zucchini are abundant in our garden. Choose very small zucchini picked in the morning. Of course, it's up to you to play with the chili, if you want teaspoons with more character. I had found beautiful Toulouse onions, very big and very firm, in my store, this is the first time they had any, I took the opportunity to put them in the spotlight in my spooned zucchini. An easy recipe to make, ready in a few minutes you will love these spooned zucchini.
Zucchini spoon recipe for 4 people:
Ingredients :
½ small zucchini
½ Toulouse onion
1 clove of garlic
1 tablespoon heavy cream or Ricotta
Salt and pepper
1 pinch of Espelette pepper
Instructions
Rinse the zucchini with clean water.
Cut in half, then zest it with a very fine grid.
Peel the onion and garlic.
Zest the garlic and onion, watch out for the fingers.
Season generously with salt and pepper.
Mix the preparation.
Taste and adjust seasoning if necessary.
Form small quenelles with two teaspoons.
Place the quenelles on porcelain spoons.
Refrigerate for at least half an hour.
Preparation time: 10 minutes
Cooking time: 0 minutes
Number of people: 4 spoons
4 star rating: 1 review
What wine to drink with: Zucchini in a spoon
My favorite wine for this recipe: Côtes de Roussillon white Grape Maccabeu
Temperature between 8 ° and 10 °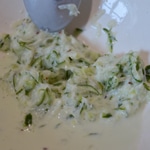 Grate the zucchini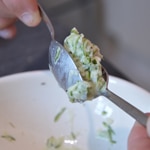 Mold with a teaspoon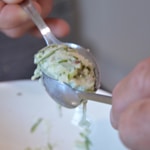 Form the quenelle with the other spoon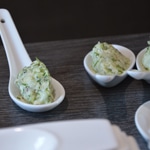 Zoom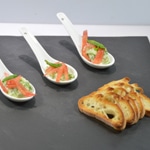 A little toast