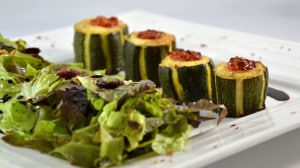 Recipe: Zucchini stuffed with goat cheese
Recipe for zucchini stuffed with goat cheese, here is a nice starter to prepare the day before. I will serve them with a small salad seasoned with hazelnut oil. Courgettes abound in the gardens, Mother Nature is generous this year. I made this recipe because I had some fresh goat cheese preparation left, I took advantage of a promotion in my store. Eating zucchini as a starter as a salad is a change in habits, it will be necessary to spice up the sauce so that the zucchini is not too bland. An easy recipe that you can prepare in advance, I made it the day before. Indeed I wanted to serve them very cold so that it is refreshing. With these zucchini stuffed with goat cheese, you will surprise your friends, and yet nothing could be easier.
Recipe ingredients
Recipe for zucchini stuffed with goat cheese for 2 people:
2 small zucchini
150 gr of preparation with fresh goat cheese
1 teaspoon of bread crumbs
1 small clove of garlic
2 cherry tomatoes
Instructions
Preheat the convection oven to 175 °
Rinse the zucchini in cold water, then pat dry.
Digging prints with the zester, just for fun.
Remove the flesh from the zucchini, leaving the edges with a grapefruit spoon.
Season the zucchini with salt and pepper.
Generously fill the hollow of the zucchini with the cheese mixture.
Sprinkle with breadcrumbs.
Cut the cherry tomatoes into thin slices.
Place on the zucchini like a hat.
Peel the garlic clove.
Squeeze the clove and place a pinch of garlic on each zucchini.
Bake in the middle of the oven for 50 minutes.
Let cool and serve with a small green salad.
Preparation time: 20 minutes
Cooking time: 50 minutes
Number of people: 2
4 star rating: 1 review
What wine to drink with: Zucchini stuffed with goat cheese
My favorite wine for this recipe: Alsace Pinot blanc Grape Pinot blanc
Temperature between 10 ° and 13 °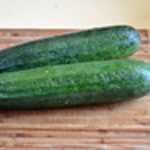 Cut the zucchini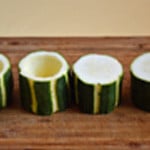 Empty the zucchini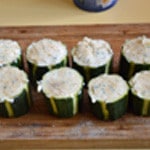 Empty the zucchini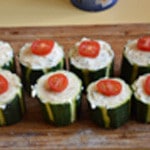 Ready to bake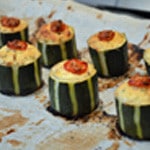 Zoom