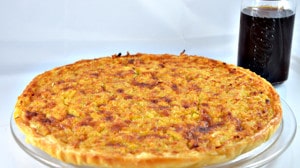 Recipe: Almond and apple pie
Almond and apple pie recipe, rather quick to make, children love this kind of pie or cake, as you like, it's up to you to choose its name. Bake a quick dessert for a small evening meal in minutes. You can also flavor your pie as you like, I was thinking of cinnamon, or tonka bean, vanilla… A recipe to finish the apples of the fall, plus I grated them in a food processor in a few minutes.
Recipe ingredients
Almond and apple tart recipe for 6 people:
1 puff pastry
100g of soft butter
50g caster sugar
50 g of vergeoise sugar
3 eggs
100g ground almonds
600 g of apples
1 teaspoon ground cinnamon
Instructions
Preheat the oven to 210 °
Roll out the puff pastry.
Prick the dough with a fork.
Peel the apples, then roughly cut into quarters.
Break the eggs into a bowl.
Add the soft butter.
Pour in the sugars.
Add the ground almonds.
Grate the apples and pour into the preparation.
Mix the preparation so that it is homogeneous.
Pour the preparation over the shortbread.
Bake for about 25 minutes.
Preparation time: 20 minutes
Cooking time: 25 minutes
Number of people: 6
4 star rating: 1 review
What wine to drink with: apple and almond pie
My favorite wine for this recipe: Jurançon sec Grape Manseng petit, Manseng grand, Corbu blanc
Temperature between 06 ° and 08 °
I found this recipe with my friend on the Kaprisscuisine site.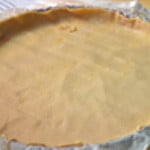 Roll out the dough
Mix the eggs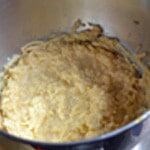 Rapping apples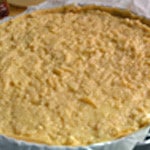 Ready to cook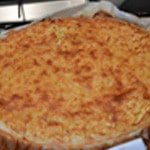 Cooked