Alpa'ni Cocktail
Cocktail with martini, Alpa'ni is a perfect alcohol cocktail for your evening cocktail with friends. At home we like to play with alcohol to make cocktails that are always a little crazier. It is especially Mathilde who gives herself great pleasure, thank you for everything.
Alpa'ni Cocktail Recipe for 1 person
Ingredients :
Recipe for (1 glass), multiply the doses to multiply the glasses
1shaker
2cl of sour cherry liqueur
6cl of white martini
2 cl of gin
½ lime
Instructions
Prepare the Alpa'ni Cocktail recipe in a shaker.
Place the lime juice, sour cherry liqueur and gin in the shaker.
Add ice cubes.
Beat the ingredients in a shaker.
Pour this cocktail into your ice-cold glass and incorporate the lime slice last.
Pour slowly and a color gradient will reveal itself to you, it is the magic of the cold that operates !!!
Preparation time: 10 minutes
Cooking time: 0 minutes
Number of people: 1 glass
4 star rating: 1 review
Thanks to Mathilde for this cocktail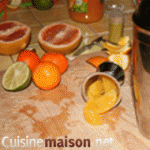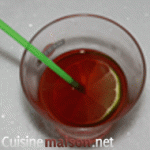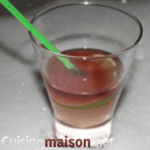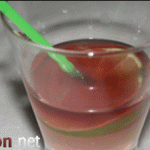 More recipes:
Gin martini cocktail

Cocktail air gunner

Kiwizz Cocktail !!

American fizz Pascal
Hide reactions

@Michel Veyssillier
Hello, I would say 2 cl, but now it all depends on the desired taste.
Regards
PascalB

How much gin?
Your reactions / questions / tips: Cancel reply
Remark
Name *
Email *
Website