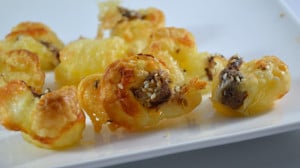 Recipe: Anchovy puff pastry
Anchovy puff pastry recipe, I love to nibble them during aperitifs, but I also take great pleasure in preparing them. I like above all to play on tastes and especially colors. I like the surprise of the guests when the appetizers arrive at the table. Here the anchovy is slightly sweetened with the mozzarella, a little white and voila. The anchovy puff pastry will be welcome in a dinner aperitif.
Recipe ingredients
Anchovy puff pastry recipe for 15 mini tarts:
½ puff pastry roll
15 to 20 anchovies in oil
15 to 20 mozzarella balls
A few drops of spicy oil.
Instructions
Heat the oven to 220 °
Cut the mozzarella balls in half.
Roll out the puff pastry, if you have offcuts, place them on top of each other and flat.
Cut the impressions and store in the molds
Sprinkle with a few drops of spicy oil.
Wrap the anchovies around the mozzarella.
Place an anchovy ball in each cavity.
Bake in the hot oven for 10 minutes.
Let cool for a few minutes then enjoy.
Preparation time: 20 minutes
Cooking time: 10 minutes
Number of tarts: 15
4 star rating: 1 review
What wine to drink with: Anchovy puff pastry
My favorite wine for this recipe: Chablis Cépage Chardonnay
Temperature between 08 ° and 09 °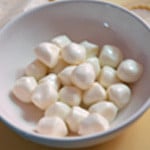 Mozzarela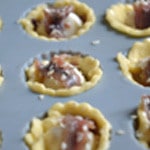 Mozzarella anchovies