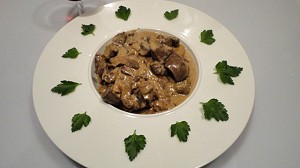 Recipe: Beef kidneys and mushrooms
Beef kidney recipe with mushrooms, at home it's always a great time my daughter eats kidneys like some eat, chocolate from the top of these thirteen years. Flambéed with cognac, the beef kidneys are enhanced and the sauce tastier. Have your kidneys trimmed by your butcher, this will make your work easier and reduce your time in the kitchen. I love all kidneys, I love to cook them but I particularly love to taste them. I served white rice with beef kidneys with mushrooms
Recipe ingredients
Recipe Beef kidney with mushrooms for 4 people:
750 g of beef kidneys
2 shallots
100 g of smoked bacon
4 tablespoons of olive oil
50 g butter
230 g of canned mushrooms
Salt and pepper
Instructions
Trim the kidneys or ask your butcher to prepare them for you.
Slice the kidneys into pieces following the shape of the kidney.
Heat the pan very hot with 3 tablespoons of oil.
Sear the kidneys in the steaming oil and stir with a wooden spoon for 2 to 3 minutes.
Filter the kidneys through a colander to extract all the fat.
Rinse them with lukewarm water under the tap.
Wipe the kidneys with food paper.
Wash the pan and utensils.
Heat the pan with the butter and the rest of the oil.
Peel then finely chop the shallots.
Cut the smoked breast into small diced bacon.
Sear the bacon in the pan.
Add the shallot.
Place the kidneys in the pan and finish cooking them in the pan.
Deglaze with the cognac.
Flambé the cognac as soon as it is hot.
Cream the kidneys then let the cream thicken, without overcooking the kidneys.
Preparation time: 15 minutes
Number of people: 4
Cooking time: 4 to 5 minutes
4 star rating: 1 review
What wine to drink with: Beef kidneys with mushrooms
My favorite wine for this recipe: Montagne St Emilion Grape variety Cabernet Franc; Cabernet Sauvignon, Merlot
Temperature between 15 ° and 16 °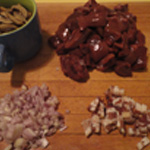 Ingredients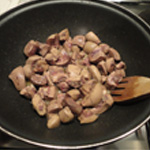 Sear the kidneys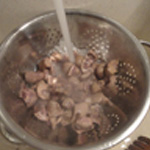 Rinse the kidneys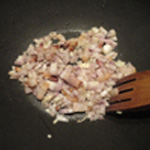 Sear the bacon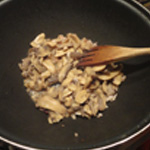 Sear the kidneys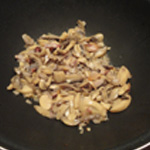 Flip the kidneys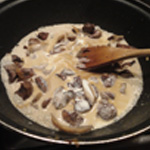 Reduce the cream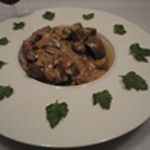 Zoom