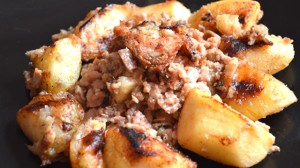 Recipe: Andouillettes with apples
Apple andouillettes recipe, a recipe that had been running through my head for some time. The apples from my orchard are a little acidic for normal consumption, but when cooking I love them. Andouillettes, there are lots of different recipes, but I was tempted to combine them with slightly sour apples, the result was worth the effort, frankly I loved this sweet and salty mixture.
Recipe ingredients
Apple andouillettes recipe for 2 people:
3 andouillettes
3 slightly sour apples
20 g butter
1 teaspoon of olive oil
1 tablespoon of apple cider vinegar
Salt and pepper
Instructions
Remove the casings from the andouillettes.
Slice the andouillettes into rings.
Peel the apples, cut them into quarters and remove the sections.
Cut the apple quarter in half again.
Heat the pan with the butter.
Cook the apples in the hot butter, moving the pan well so as not to burn the apples.
Push the apples onto the outside of the pan.
Grill the andouillettes in the center of the pan with a little oil.
Deglaze the pan with the cider vinegar as soon as the andouillettes are sufficiently toasted.
Serve on hot plates.
Preparation time: 10 minutes
Cooking time: 5 to 8 minutes
Number of people: 2
4 star rating: 1 review
What wine to drink with: Apple andouillettes
My favorite wine for this recipe: Bourgogne wine Pinot noir grape
Temperature between 10 ° and 13 °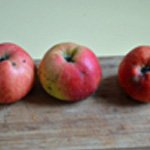 Peel the apples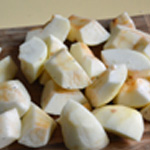 Cut the apples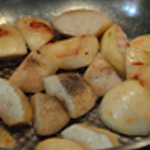 Roast the apples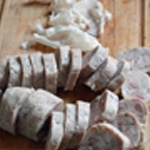 Cut the andouillettes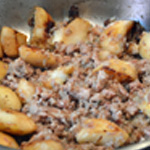 Zoom