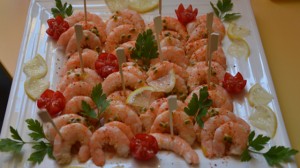 Aperitif shrimp recipe
Recipe for aperitif shrimps a quick recipe to make, you will see that there will be nothing left on the plate, be careful, they must be served very fresh, ideal at noon under a parasol. A good seasoning to accompany the shrimps not too much oil, the shrimps are sufficient on their own, do not force the Espelette pepper, in order to allow the children to feast and frankly it is better than peanuts. Usually the aperitifs are always complicated at home, it is really simple and I promise you that it was a hit, if I can put it that way. So for the next aperitif I think that we will find aperitif shrimps.
Recipe ingredients
Recipe of Shrimps aperitif for 8 people:
500 g of beautiful shrimp, but not too big.
1 tablespoon of avocado or olive oil.
1 pinch of Espelette pepper
½ lemon
3 cherry tomatoes
4 sprigs of parsley
1 passion fruit
Instructions
Rinse the parsley, then dry it.
Remove the shrimp from the shell.
Remove the black hose on the back.
Salt and pepper lightly.
Drizzle the shrimp with a little oil.
Sprinkle with a little parsley.
Add the juice of the ¼ lemon.
Sow a passion fruit.
Preparation time: 10 minutes
Cooking time: 0 minutes
Number of people: 8
4 star rating: 1 review
What wine to drink with: Aperitif shrimps
My favorite wine for this recipe: Pinot gris Cépage Pinot
Temperature between 08 ° and 10 °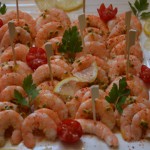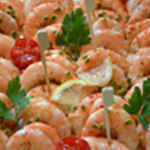 Zoom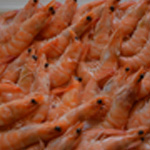 Destroy the shrimps