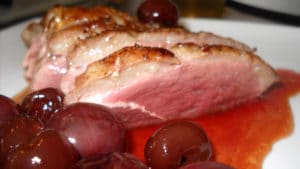 Duck breast with Morello cherries
Summary: Duck breast with sour cherries, a sweet and savory dish that is fairly quick to make. For the preparation of the duck breast, all you have to do is cut the skin a little without touching the flesh. A simple duck breast recipe, the ideal duck breast with sour cherries on the day when you are entertaining people. Pan-fried duck breast recipe to start cooking in the pan and then finish cooking in the oven. Duck breast with cherries, an easy recipe to make, duck breast remains the favorite meat of the French. Baked duck fillet for the same recipe, you just have to reduce the cooking time in the oven. Wine for the duck breast, I chose an Anjou wine for its sweetness.
Recipe ingredients
Recipe for: 4 people
2 duck breasts
40 sour cherries in brandy
15 cl of sour cherry juice
Instructions
Cut the skin of the duck breasts without touching the flesh.
Sear them in a hot pan for 2 to 3 minutes, salt and pepper.
Reserve the duck fat for another cooking; for example: potatoes.
Add a tablespoon of duck fat.
Pour the cherry juice into the still very hot pan and let stand.
Place the duck breasts in a baking dish.
Collect a teaspoon of duck fat and pour it into the dish.
Bake in a hot oven at 200 ° for 10 minutes for a pink meat, add a few minutes depending on the desired cooking.
Wrap the breasts in aluminum foil and let them rest for 4 to 5 minutes.
Pour the reduced juice from the pan into the oven dish, well deglazed.
Slice the magret by collecting the blood.
Mix the blood and the prepared sauce. Serve on hot plates.
Preparation time: 10 minutes
Cooking time: 10 to 12 minutes
Number of people: 4
4 star rating: 1 review
Duck breast with sour cherries, a savory, sweet and savory recipe, a dish for the holidays. Duck breast, a pleasure for the eyes and for its taste.
What wine to drink with: Duck breast with Morello cherries
My favorite wine for this recipe Vin d'Anjou Grape variety: Cabernet franc and Cabernet Sauvignon.
Temperature between 12 ° and 13 °
Cut the skin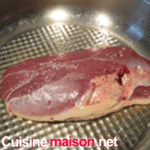 Grab skin sides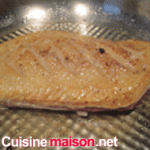 Grab the flesh sides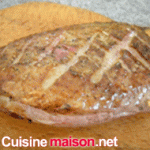 To slice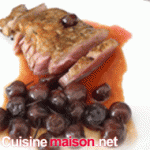 Plate