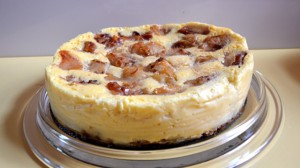 Recipe: Apple cheesecake
Apple cheesecake recipe, here is a very white cheesecake embellished with caramelized apples and of course crispy. New York cheese a little revisited, French way with the Demoiselles Tatin, I appreciate cheesecake more and more, I find them easy to make, rather quick with a very special texture, white cheese is ideal for this recipe.
Recipe ingredients
Apple Cheesecake recipe for 8 people:
1 kg of cottage cheese
1 kg of apples
250 g of sugar
50 gr of butter
5 eggs
3 tablespoons of flour
2 teaspoons of brown sugar
1 lemon
For the dough
250 g of speculos
170 g butter
Instructions
Crush the speculos, mix with the soft butter
Line your 26 cm removable bottom pan with baking paper on the base and the edges
Line your mold with your speculo preparation.
Place in a hot oven at 180 ° for 10 minutes.
Peel the apples, then cut into quarters.
Heat a pan with 50 g of butter, place the apple quarters in the hot butter.
Sprinkle with the brown sugar.
Let the apples caramelize as for a Tatin.
Zest the lemon, then extract the juice.
Beat the cottage cheese.
Crack the eggs and add them to the fromage blanc
Add the sugar, flour, lemon zest and juice.
Finish beating to combine everything.
Pour the preparation into your mold.
Gently place the apple quarters on the cottage cheese mixture.
Bake in a hot oven at 160 ° for 40 minutes. The medium should still remain fairly smooth.
Stop the oven, open the door and let the cake rest in the oven for 30 minutes.
Then let it sit for at least 24 hours or even 48 hours.
Preparation time: 15 minutes
Cooking time: 45 minutes
Number of people: 8
5 star rating: 1 review
What wine to drink with: Apple cheesecake
My favorite wine for this recipe: Bugey Cerdon Cépage Chardonnay wine
Temperature between 06 ° and 08 °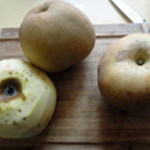 Peel the apples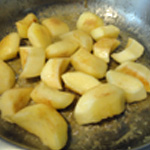 Cut into quarters
Cook like a Tatin
Gently place the candied apples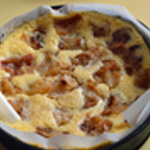 Zoom