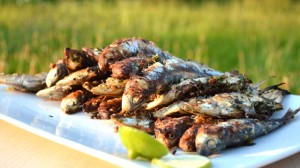 Recipe: Grilled sardines
Recipe Grilled sardines on the barbecue. I grilled them with a large shallot parsley. My hypermarket had beautiful, fresh sardines, I had a lot of people for dinner in the evening, with this fine weather impossible to miss out on a big barbecue with friends. We eat almost once a day on the barbecue, next week I will be working on the vegetables cooked on the barbecue plancha. The grilled sardines on the barbecue, it's summer, often the neighbors are invited to avoid any conflicts with the smells and the neighborhood.
Recipe ingredients
Recipe Grilled sardines for 4 people:
1 kg of whole sardines
1 bunch of parsley
2 shallots
1 tablespoon of olive oil
Salt and pepper
Instructions
Rinse the parsley with plenty of water, then dry it with food paper.
Peel the shallots.
Finely chop the parsley and shallot
Empty the sardines using a pair of scissors.
Place the sardines on a non-stick baking sheet.
Stuff the inside of the sardine with the parsley.
Place the olive oil on all the sardine fillets.
Grill directly on the plancha and on a baking sheet.
Turn the sardines when they are grilled to one side, using another plate to turn them all at once.
Serve as soon as they are grilled, be careful they cool very quickly.
Preparation time: 10 minutes
Cooking time: 0 minutes
Number of people: 4
4 star rating: 1 review
What wine to drink with: Grilled sardines
My favorite wine for this Bourgogne Aligoté recipe Grape variety: Bourgogne Aligoté
Temperature between 08 ° and 10 °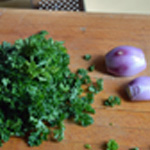 Parsley and shallots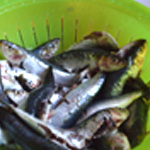 Rinse the sardines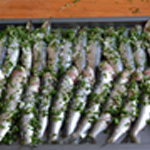 Stuff with parsley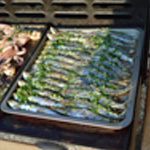 Sardines on the barbecue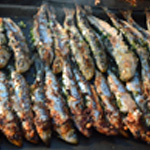 Grill them on a baking sheet