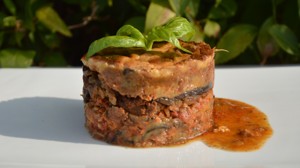 Recipe: Moussaka
Moussaka recipe, impossible to end the summer without having tasted a good moussaka, eggplants are present in the markets. Souvenir of holidays in Greece, the lamb or beef moussaka, I love it, I love the softness of the eggplants that have been cooked in the meat. I like meat flavored with a little cinnamon, just a little bit, a hint. Moussaka is a way to visit this wonderful country which is Greece, it is impossible not to also think of ouzo to whet your appetite, with a nice ice cube.
Recipe ingredients
Moussaka recipe for 10 people:
3 kg of eggplants
1 kg of onion
1.5 kg of ground beef
1 can of peeled tomato
1 kg of tomatoes
1 tablespoon of paprika
2 teaspoons of ground cumin
1 teaspoon ground cinnamon
1 teaspoon of fine salt
1 tablespoon of Provence herbs
Olive oil
½ l of béchamel sauce
Instructions
Peel then mince the onions.
Sweat the onions in 1 tablespoon of olive oil.
Add the can of peeled tomato.
Add the salt and pepper spices and simmer for ½ hour, plugging the casserole dish.
Mix the tomatoes if you don't want pieces because of the children.
Add the meat to the tomatoes and leave to cook.
Separate the meat in the sauce.
Wash the eggplants, cut off the ends.
Thinly slice the eggplants lengthwise.
Then wash and cut the tomatoes and add them to the onions
Grill the eggplants with a little olive oil, just let them color a little.
Be careful, eggplants are very greedy in oils.
Assemble the moussaka by starting with a double row of eggplants.
Pour in a little meat.
Remember to cross the row of eggplant, your moussaka will hold better.
Alternate meat and eggplant, until all your ingredients are used up.
Heat the butter to make the béchamel sauce and pour it over the eggplants.
Bake in a hot oven at 180 ° for one hour
Preparation time: 25 minutes
Number of people: 10
Cooking time: 60 minutes
4 star rating: 1 review
What wine to drink with: Moussaka
My favorite wine for this recipe: Corbières rouge Cépage Carignan, Grenache noir; Cinsault
Temperature between 16 ° and 18 °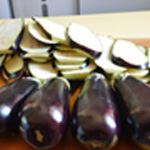 Wash the eggplants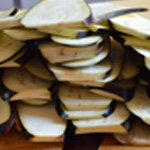 Slice lengthwise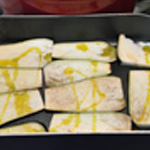 Grill with oil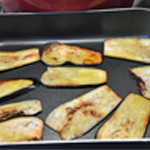 Flip and grill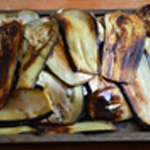 Grilled eggplants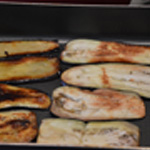 Let them color well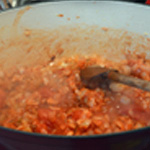 Grill the onions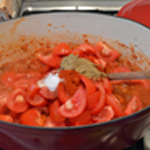 Add spices and tomatoes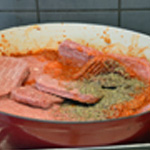 Add meat and herbs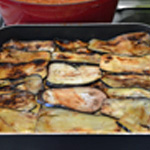 Double row of eggplants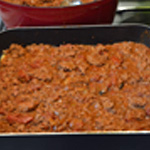 Then meat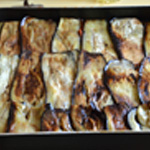 Cross the rows of eggplants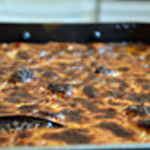 Cooked moussaka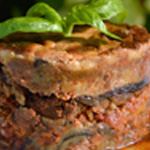 Zoom<img src="/wp-content/uploads/2021/09/3587912471439347950.jpg" class="aligncenter"