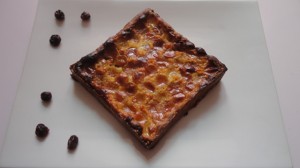 Recipe: Apple pie
Apple pie recipe, the fruit of autumn present all winter, for this recipe which was original. Easy apple pie recipe, just a little different in the presentation and especially if you have a little time .. Apple pie everyone will have a preference, me for this apple pie recipe, I chose beautiful multi-colored Jonathan . Much faster than a tarte Tatin this apple pie will not go unnoticed
Recipe ingredients
Apple pie recipe for 4 people:
2 medium-sized apples
1 puff pastry
Pastry
20 gr of butter
1 egg
15 cl of liquid cream
50 gr of sugar
Instructions
Butter the mold, then flour it.
Roll out the pie dough, then place it in the buttered mold
Cut the excess paper around the pie.
Prick the pie shell with a fork.
Peel the apples.
Drill cylinders with an apple corer.
Cut the apple cylinders at the same height.
Arrange the apple cylinders on the pie crust.
Mix the cream with the egg, then add the sugar.
Pour this preparation with a funnel.
Place in a hot oven at 200 ° for 40 to 45 minutes.
Enjoy this tart warm.
Preparation time: 20 minutes
Cooking time: 40 minutes
Number of people: 4
4 star rating: 1 review
What wine to drink with: Apple pie
My favorite wine for this recipe: Vouvray Cépage Chenin blanc
Temperature between 8 ° and 10 °