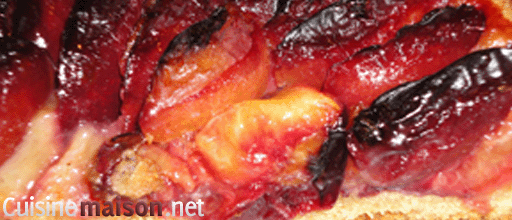 Prune Pie Recipe
Pie with seasonal fruits, we love them at home. Pie recipe a beautiful dessert for a dinner at home. The prune tart, I used the prunes from Maie Ginette, very tasty and deliciously sweet, we loved this flavored tart with the speculos. Speculos pie a nice way to change from a classic pie with this prune pie. Speculos and prune tart for the return from the beach, when the water has whetted the appetite.
Prune tart recipe for: 8 people
Ingredients :
150 g of type 45 flour
100 g of speculos cake
125 g butter
125 g icing sugar
1/4 teaspoon of salt
1 egg
1.800 kg of Stanley plum
Brown sugar
Instructions
Mix the speculos and add them to the sifted flour, mix the salt and the flour, and the soft butter in small squares
of 1 cm by 1 cm. With your fingertips, pass the butter on the flour and sand the dough until you get small cracks.
Break the egg into a salad bowl, beat with the sugar then gently mix the dough to homogenize it.
Be careful not to overwork the dough so as not to make it brittle.
Leave the dough to rest for at least ½ hour, but ideally overnight.
Butter the pie pan then flour it, shaking the pan well to remove excess flour.
Place the shortbread dough in the center and press with your hand to spread it evenly, be careful the prunes go
reject full of water, the dough must be thick.
Pit the prunes and arrange them very tightly on the edge. Sprinkle with brown sugar and place in a hot oven 180 ° for 40 minutes.
Preparation time: 30 minutes
Cooking time: 40 minutes
Number of people: 8
4 star rating: 1 review
Enjoy this prune tart, bursting with caramelized juice. The speculos bring this little nutty taste, the prunes are also the end of summer.
What wine to drink with: Prune tart
My favorite wine for this Macvin du jura recipe Grape variety: Poulsard, Trousseau; Pinot Noir
Temperature between 8 ° and 9 °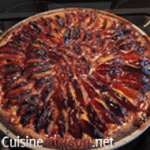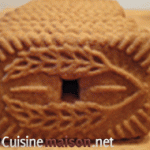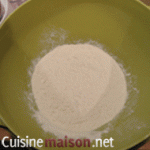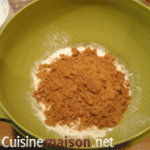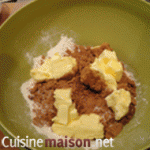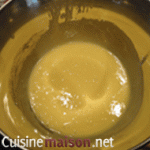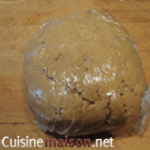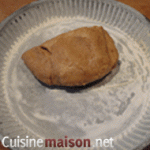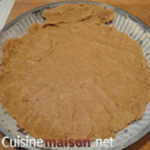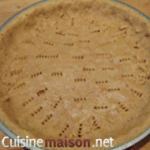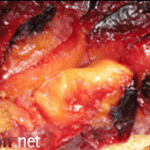 </p