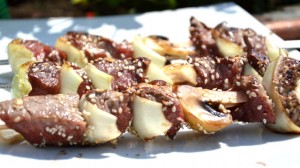 Recipe: Beef brochettes with sesame seeds
Beef skewers recipe with sesame seeds. Here are the beautiful summer days, nothing better than to start with skewers of beef, flavored with sesame seeds. Piece of beef to make your skewers: ask your butcher for a pear, its shape and taste are perfect for making beef skewers with peppers. Ready in a few minutes you will love this deliciously flavored meat just a little spicy, high in taste but also colorful. The pleasure of having lunch outside with these skewers as beautiful as they are delicious, the grilled mushrooms in olive oil are still a little crunchy.
Recipe ingredients
Recipe Beef brochettes with sesame seeds for 4 people:
300 g beef (pear)
2 teaspoons of sesame seeds
1 onion
4 beautiful button mushrooms
2 tablespoons of sesame oil (or another oil)
Salt and pepper
Instructions
Cut the onion into quarters.
Cut the mushrooms into quarters.
Slice the beef lengthwise, then into cubes.
Combine sesame oil, salt and sesame seeds in a bowl.
Place the beef in a bowl and the scented oil.
Mix to incorporate the oil into the meat.
Assemble the skewer, starting with two eighths of the onion petal.
Add a quarter of the mushroom, then a cube of meat.
Add an onion petal, then a meat cube.
Finish with an onion petal, to tighten the skewer.
Preparation time: 20 minutes
Cooking time: 4 to 6 minutes
Number of people: 4
4 star rating: 1 review
What wine to drink with: Beef brochettes with sesame seeds.
My favorite wine for this Alsace Pinot noir recipe Grape variety: Pinot noir
Temperature between 12 ° and 14 °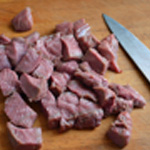 Slice the meat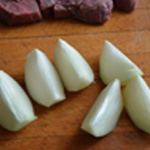 Cut the onions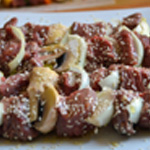 Sow sesame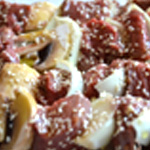 Zoom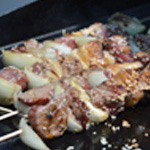 Cook on a hot barbecue