Recipe: rhubarb panna cotta
Rhubarb panna cotta recipe, it is generous in our gardens and in addition it is the high season. A new way to consume this rhubarb which is so abundant in season, and stays cheap on the shelves. I loved the slightly tangy rhubarb compote in contrast to the sweetness of the panna cotta. Frankly try this rhubarb panna cotta recipe, you won't regret it.
Recipe ingredients
Rhubarb panna cotta recipe for 8 people:
750 g rhubarb
50 g of sugar (for the rhubarb more or less according to the tastes)
100 g for the apples
50 g butter
6 large apples
½ liter of cream
1 g of agar agar
For the crumble
130 salted butter
100g of flour
100 g brown sugar
150 g of crushed hazelnuts.
Instructions
Prepare the crumble like the hazelnut crumble recipe
Peel the apples, then cut them into quarters.
Reserve an apple for the rhubarb.
Melt the butter and sprinkle the sugar over your melted butter.
Let the sugar gently caramelize.
Place the apples delicately in the caramelized butter.
Let the juice of the apples evaporate; they must be candied.
Heat the cream, as soon as it boils add the agar agar let it boil for one minute, then turn off the heat.
Add the caramelized apples to the hot cream.
Mix to flavor the cream.
Pour into verrines up to ¾, then set aside in a refrigerator.
Peel the rhubarb, taking care to remove all the threads.
Cut into cubes.
Heat a saucepan with the rhubarb and the cubed apple.
Add the sugar.
Cook over low heat so that the rhubarb compotes.
Let the compote cool.
Pour the rhubarb compote in the verrines over the panna cotta.
Break the crumble and spread over the rhubarb compote
Preparation time: 20 minutes
Cooking time: 0 minutes
Number of people: 8
4 star rating: 1 review
What wine to drink with: rhubarb panna cotta
My favorite wine for this recipe: Gewurztraminer Grape Gewurztraminer
Temperature between 06 ° and 07 °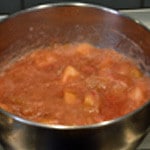 Make a compote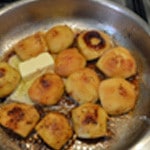 Bake the apples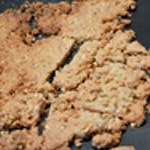 Bake the crumble
Put in a glass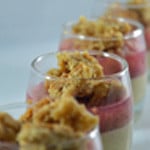 Zoom