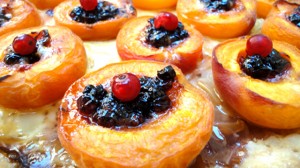 Recipe: Apricot pie
Apricot and redcurrant tart recipe. Apricot puff pastry tart with an almond-flavored dough. You will decorate the center of the apricots with a reduction of currants and sugar, a little like jam, then in the center of whole currants. A recipe for currant pie with apricots and almonds I liked the acidity and sugar in the marmalade.
Recipe ingredients
Apricot tart recipe for 8 people
1.2 kg of unripe apricots
100 g red currants
250 g of puff pastry
100 g flaked almonds
1 egg yolk
1 egg
25 cl of fluid cream
20 g butter
2 tablespoons of powdered sugar
1 teaspoon of honey
Instructions
Rinse the apricots and currants.
Cut the apricots in half, remove the stones.
Roll out the puff pastry.
Butter the pie pan, flour it well.
Place the puff pastry by pricking it all over with a fork.
Spread 1 teaspoon of brown sugar over the dough.
Spend 10 to 15 minutes in the oven to color the dough.
Brown the currants in a saucepan with the honey.
Let reduce over a low heat, so that the fruit throws out all its water.
Toast the almonds in a dry pan, let them brown a little so that they give off more flavor.
Distribute the almonds on the pie shell.
Store the apricot halves with the pit on top.
Fill the pit hole with the currant preparation.
Mix the cream with the egg and the sugar, then pour between the apricots.
Walk the sidewalk from the egg yolk pie.
Bake for 30 minutes in a hot oven at 160 °.
Preparation time: 20 minutes
Cooking time: 30 minutes
Number of people: 8
4 star rating: 1 review
What wine to drink with: Apricot tart
My favorite wine for Alsace Pinot gris (Tokay) Grape variety: Pinot gris
Temperature between 10 ° and 12 °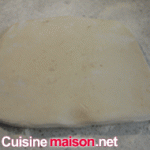 Temper the dough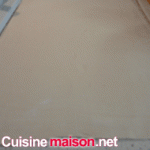 Roll out the dough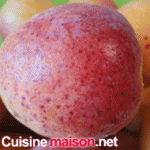 Wash the fruit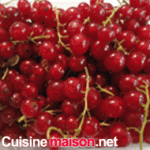 Wash the currants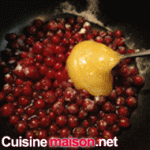 Add honey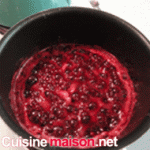 Reduce the juice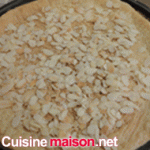 Bake white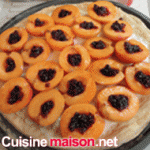 Store the fruits