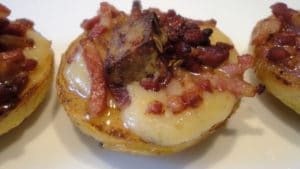 Artichoke heart
A small starter to taste without moderation I love this Artichoke Recipe. Artichokes stuffed with foie gras. Artichoke font recipe easy to make, not always easy to be inspired every day. An appetizer for pleasure rich in taste, this vegetable from Brittany is celebrating today on the site. Artichoke base for an original starter, fresh or in a box, you will love this artichoke heart.
Ingredients
Artichoke heart recipe for: 4 people
8 canned artichoke bottoms
125 g of bacon
100 g of Comté
160 g of raw foie gras
½ teaspoon of fennel seeds
30g butter
Salt and pepper
Instructions
Wipe the hearts with food paper
Brown them in a pan with the butter, let them brown on each side, then set aside.
Grill the bacon in the pan.
Cut the foie gras into 8 equal pieces.
On a baking sheet lined with baking paper, arrange the artichoke hearts.
Then distribute the bacon over the artichoke bottoms.
Salt and pepper
Sprinkle with grated Comté.
Place the piece of raw foie gras on top of the preparation.
Sprinkle the fennel seeds over the preparation.
Place in a hot oven at 150 ° for 10 minutes.
Preparation time: 20 minutes
Cooking time: 10 minutes
Number of people: 4
4 star rating: 1 review
What wine to drink with: Artichoke heart
My favorite wine for this recipe Condrieu (White) Grape variety: Viognier:
Temperature between 8 ° and 10 °