Chicken saltimbocca recipe
Instructions
to change a bit from the traditional veal, anyway I only had chicken fillets in my fridge. A quick recipe to make and very easy, I took less than half an hour with the cooking. The sauce and ham delicately flavor the chicken.
Chicken saltimcca recipe for 4 people
Ingredients
4 thin chicken cutlets
4 slices of Parma ham or similar
12 fresh sage leaves
20 g butter
4 teaspoons of red martini
4 tablespoons of white wine
8 tablespoons of cream
Salt and pepper
instructions:
Flatten the chicken fillets using a large flat knife and a roller, in order to soften them and especially to obtain
a fairly thin cutlet.
Butter a baking dish.
Place the chicken fillet in the dish.
Salt and pepper.
Place a sage leaf then a slice of Parma ham, then finish with a sage leaf hold the
all with a wooden spike.
Place in a hot oven at 200 ° for 12 minutes.
Preparation time: 30 minutes
Cooking time: 12 minutes
Number of people: 4
4 star rating: 1 review
What wine to drink with Chicken Saltimbocca:
My favorite wine for this Rully red recipe Grape variety: Pinot noir
Temperature between 15 ° and 16 °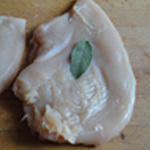 Flatten the escalope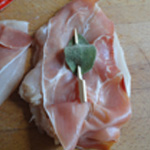 Ham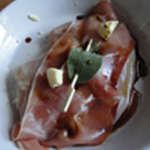 Sauce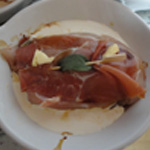 Cream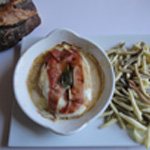 Cooked