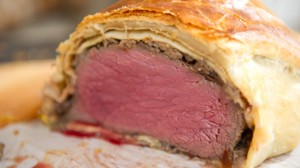 Recipe: Wellington Beef
Beef Wellington recipe. A beef tenderloin recipe, for an exceptional meal. A beef Wellington tenderloin for special occasions, with this tenderloin the cutting in the dining room is almost mandatory. Beef Wellington a fillet of beef for lovers of red meat and spectacle. Beef Wellington a recipe across the Atlantic, thank you Arthur Wellesley, First Duke of Wellington
Recipe ingredients
Beef Wellington recipes for 4 people
1kg of beef tenderloin
80 gr of butter
3 tablespoons of olive oil
3 shallots
500 gr of button mushrooms
Salt and pepper
250 gr of flour
2 eggs
½ liter of milk
2 egg yolks
600 gr of puff pastry
Instructions
Take the meat out of the refrigerator ½ hour before searing it.
Enter the piece of beef in a pan with the butter and a spoonful of olive oil, without pricking it, salt and pepper.
Let the piece of beef cool.
Clean the mushrooms, then slice them very finely.
Peel then mince the shallots
Add a spoonful of olive oil to the pan, then sear the shallots
Add the mushrooms and sear them until the water has completely evaporated, salt and pepper.
Beat the eggs into an omelet, add the flour in rain then the spoon of olive oil, let the pancake batter stand for 15 minutes.
Cook the pancakes in the pan
Place the pancakes on a cutting board, spread the mushroom duxelle.
Place the piece of Beef on the mushrooms, then cover with the rest of the mushrooms.
Cover the piece of beef with the pancakes.
Roll out the puff pastry, then roll it into a ball to break the puff pastry, then roll out the dough again into a rectangle.
Place the prepared piece of beef on the spread puff pastry, cover the piece entirely with the puff pastry, welded with a brush and water.
Brush the puff pastry with the egg yolk topped with a little water
Bake in a very hot 250 ° oven for 25 to 30 minutes.
Let stand a few minutes before cutting.
Preparation time: 40 minutes
Cooking time: 25 minutes
Number of people: 4
4 star rating: 1 review
What wine to drink with Wellington Beef
My favorite wine for this Canon- Fronsac recipe Grape variety: Cabernet; cabernet sauvignon; Merlot
Temperature between 15 ° and 17 °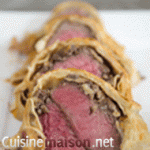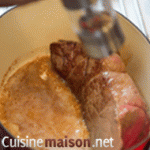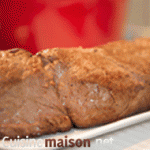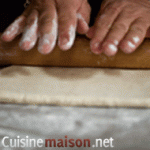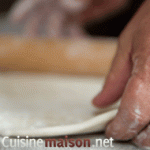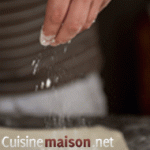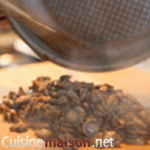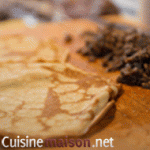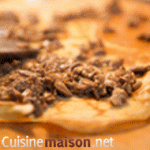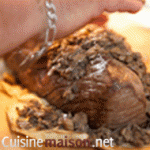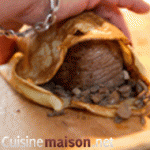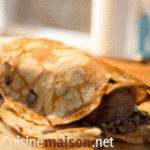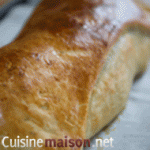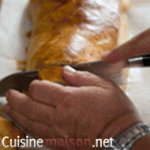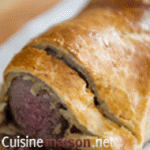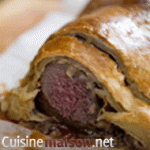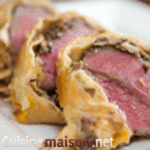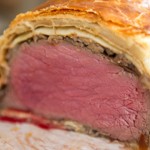 </p