Recipe: Cod loin
Recipe for cod back in yellow wine, I love this wine which is not unanimous, but it is a local cru, directly from Franche Comté. The cod backs were very generous, not always easy to find plump backs, here cooking in butter and olive oil, without touching the fish, just sprinkling with the hot fat. I particularly like cod, its taste and texture, but as always, be careful not to overcook it. Cod back with a yellow wine and leek sauce, worthy of this fish. We loved this fish topped with a beautiful wine-colored sauce. I accompanied it with a small glass of yellow wine, but the girls still have a hard time with this wine, they often like sweeter wines.
Recipe ingredients
Cod back recipe for 4 people:
4 cod back
4 leek whites
25 cl of yellow wine
50 g of butter + 50gr
25cl of cream
1 tablespoon of olive oil.
1 teaspoon ground pepper
Salt
Instructions
Rinse then dry the cod.
Peel then cut the leek whites into slices.
Heat a saucepan with 50 g of butter.
Add the leek whites.
Pour in the yellow wine as soon as the leeks are transparent, cook for 5 to 6 minutes.
Add the cream and let the sauce thicken.
Heat the pan with the butter and oil.
Place the cod backs in the hot fat.
Put the fire down.
Crush the peppercorns.
Season generously with salt and pepper.
Drizzle the backs with a tablespoon of the hot fat, do not turn the backs.
Heat the plates before serving.
Place the cooked backs on the plate then cover with the yellow wine sauce.
Preparation time: 12 minutes
Cooking time: 5 minutes
Number of people: 4
4 star rating: 1 review
What wine to drink with: Cod back
My favorite wine for this recipe: Chardonnay yellow wine, Savagnin, Pinot blanc
Temperature between 16 ° and 17 °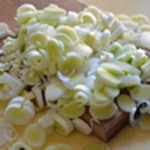 slice the leeks
Sear in the butter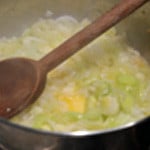 Let reduce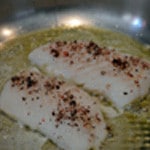 Water the backs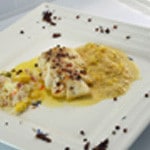 Zoom