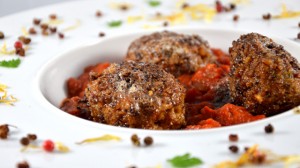 Recipe: Veal meatballs
Recipe for veal meatballs, I like to cook veal especially with mixtures, here hazelnuts and almonds. I wanted to give a festive air to my small veal meatballs, I breaded them with 1/3 bread, 1/3 hazelnuts and 1/3 almonds, a luxury breadcrumbs. Accompanied by a house tomato sauce, bright red, we loved these delicious meatballs. The veal is perfect for all stuffing, I added a little smoked bacon because the veal is not fat.
Recipe ingredients
Recipe Veal meatballs for 4 people:
400 g of veal stuffing
125 g of smoked bacon
1 teaspoon of paprika
½ teaspoon of ginger
Salt and pepper
50 g almonds
50 g of hazelnuts
40 g of stale bread
1 can of peeled tomatoes
1 tablespoon of olive oil
20 g butter
Instructions
Chop the veal with the smoked breast.
Add the paprika and ginger.
Salt and pepper.
Mix well with a wooden spoon.
Prepare the breadcrumbs by crushing the stale bread.
Mix together the almonds, hazelnuts and bread.
Form small balls in the palm of your hand.
Roll the meatballs in the prepared breadcrumbs.
Heat a pan with the butter and oil.
Gently place the meatballs in the pan.
Reduce the heat of the pan, the meatballs should cook slowly, for about 20 minutes.
Make the easy tomato sauce.
Serve the veal meatballs over the tomato sauce.
Preparation time: 40 minutes
Cooking time: 20 minutes
Number of people: 4
4 star rating: 1 review
What wine to drink with: Veal meatballs
My favorite wine for this recipe: Anjou rouge Grape variety Cabernet sauvignon and cabernet Franc
Temperature between 12 ° and 13 °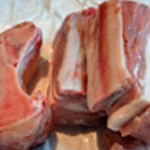 Bone the blanquette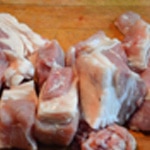 Cut into cubes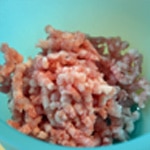 Chop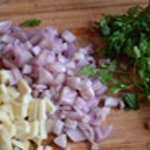 Chop garlic, shallots, parsley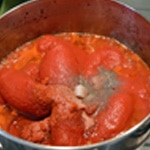 Heat the peeled tomatoes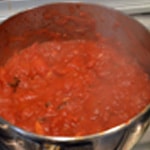 Let reduce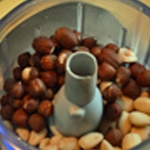 Mix for the breadcrumbs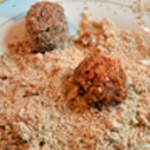 Roll the meatballs in the breadcrumbs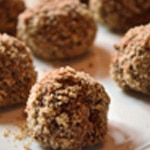 Zoom dumplings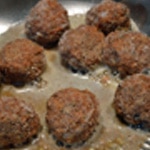 Cook the meatballs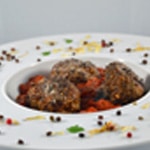 Zoom plate