Recipe: Asparagus in the microwave
Asparagus recipe in the microwave, a quick way to cook them, for people in a hurry. It's such a shame to miss these beautiful vegetables that arrive on the shelves of our markets. I like asparagus, I like to accompany them with a tasty, slightly scented sauce. Cooking different from the usual habits, but cooking without water or almost cooking in asparagus water, they keep their flavor and are deliciously scented. It is not always easy to find the right time, on the other hand what is important is to select them of the same size, so that the cooking time is identical.
Recipe ingredients
Asparagus recipe in the microwave for 4 people:
6 large asparagus (550g)
3 rounds of peppercorns
1 pinch of fleur de sel
1 teaspoon of water
Instructions
Peel the asparagus, starting from head to toe.
Cut the bottom of the asparagus just to cool it down.
Store the asparagus in a microwave-safe container.
Pepper generously.
Pour water.
Film with food paper to make it waterproof.
Put in the microwave power 850 w for 10 to 14 minutes depending on the size.
Serve well lukewarm.
Preparation time: 30 minutes
Cooking time: 14 minutes
Number of servings (yield): 4
4 star rating: 1 review
What wine to drink with: Asparagus in the microwave
My favorite wine for this recipe: Sancerre blanc Cépage Sauvignon blanc
Temperature between 8 ° and 10 °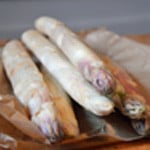 Peel the asparagus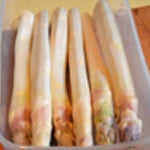 Store the asparagus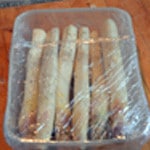 Film the asparagus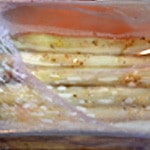 Cooked asparagus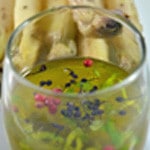 Scented oil