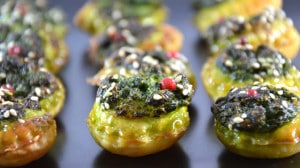 Recipe: Wild garlic and Comté puff pastry
Bear garlic and Comté puff pastry recipe, here are some very inexpensive puff pastry recipes. In fact, wild garlic abounds in our forests and I always have several jars in my refrigerator. I like to prepare the small puff pastry for the aperitif. With the bear garlic and Comté puff pastry, it's even more original and the smell point of view it gives off a bit, but I love it. I love the color that wild garlic keeps even after cooking and its taste is unmistakable. A great discovery for people who have never eaten wild garlic. Nature is generous, a pity that many people do not know how to take advantage of it. In any case, with us it's often a week of preparation, in fact we prepare it like a natural pesto, then in verrines a little oil on it and hop in the fridge for the whole year. It will suffice to supplement with oil each time you draw on your reserve like a basil pesto. And in the pasta I'm not telling you, in any case with homemade spaghetti it's only happiness.
Recipe ingredients
Wild garlic and Comté puff pastry recipe for 120 mini tarts:
300 gr wild garlic in oil
125 gr of Comté
2 eggs
2 egg yolks
Salt
½ teaspoon ground pepper
1 egg yolk
4 teaspoons of sesame seeds
Red berries
Instructions
Grate the county finely.
Mix with wild garlic.
Break the eggs and mix again.
Pour the preparation into a pocket with a large non-serrated nozzle.
Roll out the very cold puff pastry.
Cut circles with a cookie cutter.
Place in the silicone mold.
Brown with the egg yolks.
Fill the molds with wild garlic.
Place a red berry in each tart.
Place in a hot oven at 180 ° for 15 minutes.
Preparation time: 15 minutes
Cooking time: 15 minutes
Number of reduction: 120
4 star rating: 1 review
What wine to drink with: Comté bear garlic puff pastry
My favorite wine for this recipe: Arbois Savagnin Cépage Savagnin
Temperature between 9 ° and 11 °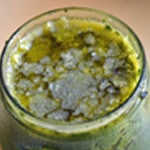 Wild garlic in the fridge
The count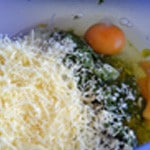 Rapping the cheese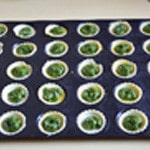 Pour garlic over the dough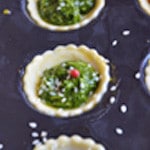 Zoom