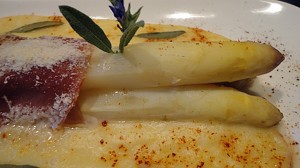 Recipe: Asparagus with Parmesan
Recipe Asparagus with Parmesan and Parma ham roasted under the grill. A few sage leaves to flavor the Parmesan asparagus dressed with Parma ham. A starter to be served warm accompanied by an Italian wine.
Recipe ingredients
Recipes Asparagus with parmesan for 4 people
12 large asparagus
8 thin slices of Parma ham
½ liter of béchamel
100 g parmesan
12 sage leaves
salt and pepper
Instructions
Peel the asparagus, then cook them upright for 20 to 25 minutes depending on their size.
Dry the asparagus on a tea towel.
Rinse the sauce sheets then dry them with food paper.
Make a bechamel sauce.
Add 100 g of Parmesan to the bechamel sauce.
Spread a slice of ham on the gratin dish, then add the second slice.
Place the asparagus on the ham then wrap the ham around the asparagus.
Repeat until all the asparagus are used up.
Sprinkle the sauce leaves on your dish.
Place in a hot oven, grill 200 ° for 7 to 8 minutes.
Preparation time: 10 minutes
Cooking time: 20 to 258 minutes
Number of people: 4
4 star rating: 1 review
What wine to drink with: Asparagus with Parmesan
My favorite wine for this recipe Arneis (Piedmont wine) Grape variety: Arnéis.
Temperature between 7 ° and 8 °
Thank you to Rosabel de Vesoul store for its dishes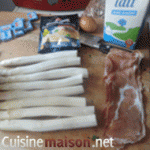 The ingredients for the recipe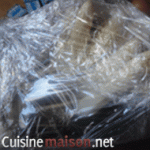 The tips are steaming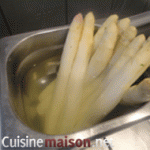 Cooked asparagus
wipe the asparagus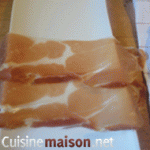 Lay the ham flat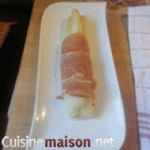 Asparagus dressed with Parma ham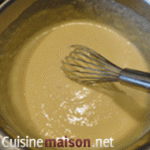 a creamy sauce linked to Parmesan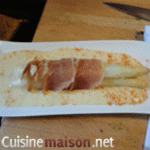 before the oven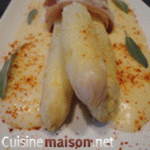 steamed tips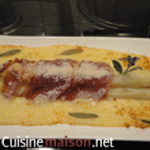 asparagus coated with Parma ham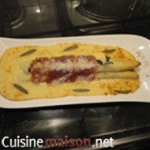 some sage leaves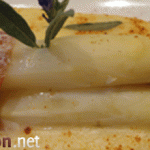 The plate ready