Celeriac Velouté Recipe
With the cold that arrived, nothing like a good soup for the evening meal. This time I used celeriac, my daughter loves it in a salad; it's a great opportunity to introduce him to other flavors. I did not mix it, because Léonie refuses to eat soup if there are a few pieces (not always easy ..) So I used my vegetable mill to mix my celeriac soup, here I am back 30 years ago, like my grandmother who had no questions about grinding her soup. I really like the flavor of this celeriac soup, at home in winter, we often just eat a soup, often very generous. Soup is often an opportunity to make children eat vegetables, a little decoration with cream and presto, they are happy and benefit from all the vitamins and fiber in vegetables.
Celeriac velouté recipe for 6 people:
Ingredients
1 celeriac
400 g of potatoes
1 onion
3 cloves of garlic
5 sprigs of flat-leaf parsley
3 green leek branches
2 tablespoons of olive oil
Salt and pepper
A little nutmeg to grate
25 g optional butter
Instructions
Peel the garlic and onion, then mince them finely.
Heat the casserole dish with the olive oil.
Remove leaves from the parsley, then finely chopped with a knife.
Sear the garlic and onion in hot oil for a few minutes, but without letting them color.
Peel the celeriac, then cut it roughly into cubes.
Peel the potatoes, then roughly chop them.
Add the celery and potatoes to the casserole dish.
Roughly chop the parsley stems, then add them to the soup.
Let cook gently for 5 minutes.
Cover with water, salt and pepper generously.
Simmer for 20 minutes: the vegetables should be tender.
Add the butter
Grind the vegetables, gradually adding the cooking water to obtain a velvety soup.
Taste and adjust seasoning if necessary.
Sprinkle before serving with parsley and enjoy very hot.
Preparation time: 20 minutes
Cooking time: 30 minutes
Number of people: 4
4 star rating: 1 review
What wine to drink with: Celeriac velouté
My favorite wine for this recipe: fitou Cépage Carignan, Syrah, black grenache
Temperature between 14 ° and 16 °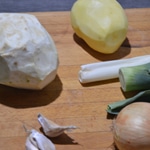 Ingredients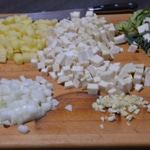 Cut into cube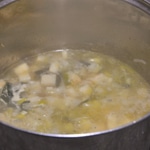 To cook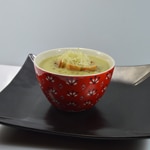 With a crouton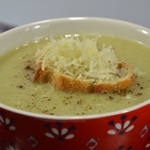 Zoom