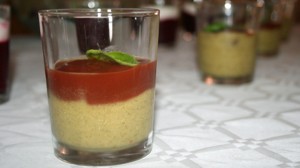 Recipe: Cauliflower gazpacho with curry
Cauliflower gazpacho recipe with curry, gazpacho soup recipe, eaten cold. It is Spain at the origin of this cold soup to be tasted during the hottest moments of summer. cold cauliflower with curry like curry soup. Coriander to flavor this gazpacho with a tomato coulis.
Recipe ingredients
Cauliflower gazpacho with curry for 6 people
500 cauliflower
¼ of a bunch of coriander
50 cl of tomato coulis
50 g of grain bread
1 tablespoon of curry
50 cl of chicken broth
10 cl of olive oil
3 cl of rice vinegar
Salt, freshly ground pepper
Instructions
Remove the section from the cauliflower, then separate the bouquet, leaving a little stem.
Rinse it with vinegar water.
Pour the broth into a saucepan with the curry, brought to a boil.
Cook the bunch of cauliflower for 5 to 6 minutes.
Drain the cauliflower and collect the cooking liquid.
Let cool.
Incorporate the bread crumbs into the cauliflower.
soak with vinegar.
Let stand overnight in the refrigerator.
Transfer the cauliflower to the bowl of your blender
Mix by slowly adding the olive oil, half of the coriander.
Add the amount of broth to obtain a smooth and fluid consistency.
Finish by adding the tomato coulis. Taste, adjust the seasoning with salt, give it a few turns of the mill.
Preparation time: 10 minutes
Cooking time: 0 minutes
Number of people: 6
4 star rating: 1 review
What wine to drink with: Cauliflower gazpacho with curry
My favorite wine for this Côtes-de-Provence Sainte-Victoire recipe (Dry Rosé) (Grape varieties: Cinsault, Grenache noir, Syrah)
Temperature between 8 ° and 10 °