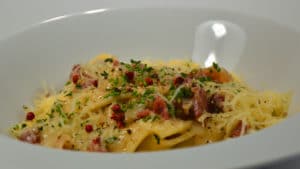 Recipe of Tagliatelle with cancoillotte
Always a great moment, when I decide to make fresh pasta; in truth, it's once or twice a week, what's more difficult is figuring out what kind of pasta we're going to eat, opinions differ at home. In any case, we all agree that the accompaniment will be Tagliatelle à la cancoillotte. This time I chose a garlic cancoillotte, it has a little more character and it goes wonderfully with fresh pasta. Today we easily find cancoillotte in supermarkets throughout France. So try this recipe, the sweetness of the cancoillotte will surprise you, its flavor spiced up with garlic will perfectly flavor these cancoillotte tagliatelle. I really like this kind of dish ready in a few minutes, divinely flavored with the garlic cancoillotte, well if the garlic bothers you, choose a plain cancoillotte which is a little sweeter.
Recipe of Tagliatelle with cancoillotte for 2 people:
Ingredients
100 g of raw ham
1 onion
10 g chives
15 cl of white wine
15g butter
¼ of nutmeg to grate
250 g of garlic cancoillotte
200 g of fresh homemade dough
Instructions
Rinse then dry the chives with food paper.
Finely chop the chives with a knife.
Prepare the fresh homemade dough for the tagliatelle.
Roll to number 4 in Kitchnaid, then cut with a ruler and knife.
Leave the tagliatelle to dry on a drying rack while waiting for cooking.
Peel the onion, then finely chop it.
Heat the plates
Strip the heel of raw ham.
Slice the raw ham into small pieces.
Heat a saucepan with the butter, ham and onion.
Grill for 3 to 4 minutes, so that the onions color a little.
Pour the white wine into the hot saucepan to deglaze.
Let reduce for 5 minutes
Pepper generously
Add the cancoillotte and let melt under a low heat.
Grate the nutmeg
Cook the tagliatelle for 15 minutes in a large volume of salted water, because the tagliatelle are a bit thick (but it was voluntary)
Drain the tagliatelle and place them in the hot, deep plates.
Spread generously with the cancoillotte sauce.
Sow a little chives just before serving.
Preparation time: 30 minutes, if you are making your homemade pasta
Cooking time: 15 minutes
Number of people: 4
4 star rating: 1 review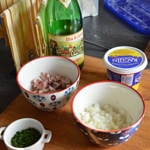 Ingredients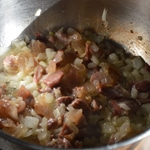 Add the ham to the onions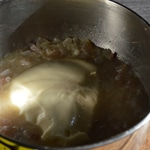 Add the cancoillotte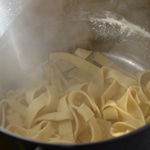 Cook the tagliatelle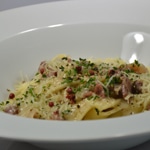 Zoom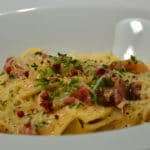 What wine to drink with: Tagliatelle à la cancoillotte
My favorite wine for this recipe: Alsace Pinot noir Grape Pinot noir
Temperature between 11 ° and 13 °
Partnership with the vineyards of Pierre Reinhart in Orschwihr in the 68
A thought to all those connected from France or abroad in love with French cuisine and these wines, here is a great opportunity for you to buy a quality wine, without any risk, to accompany my recipe for Tagliatelle à la cancoillotte. I selected this Alsace wine from Pierre Reinhart's estate after tasting it, I loved it.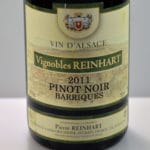 Zoom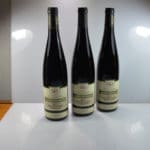 Bottles
Pinot noir 2011 Barrels
The only grape variety in Alsace to produce a red or rosé wine, which came very early from Burgundy. Although not very colorful, Pinot Noir takes advantage of a maceration which enriches it with tannin. A powerful red wine (14 °) very ample with notes of vanilla and red fruits; it is drunk chilled. It will seduce you with its freshness and balance. </p