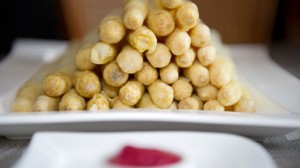 Recipe: Asparagus
Asparagus with a fine and delicate taste that is slightly nutty. Asparagus easy recipe, asparagus cooked in water, steamed tips. This preparation of asparagus is more complicated than cooking in a pressure cooker, but frankly the result is completely different, your asparagus will be a real delight An asparagus starter with the arrival of spring, just salt with the flower of Guérande salt, they will be served as a starter but also as a main course. We also find organic asparagus, for amateurs. Asparagus from Alsace or asparagus from Poitou. I love asparagus, it's the arrival of the sun, I love these moments when we stroll on the market to find the most beautiful asparagus. For this recipe, I offer plain asparagus, just salted with fleur de sel from Guérande or the south. Asparagus, the great friend of diets.
Recipe ingredients
Asparagus recipe for 4 people:
1.200 g of asparagus
Salt and pepper
Instructions
Peel the asparagus starting with the foot and ending with the head, the closer you get to the tip the less you press on your peeler (your peeling must stop 2 cm from the tip).
Wrap your asparagus with a heavy cotton tea towel.
Adjust your tea towel so that it leaves the tips free
Tie lightly with a string, in fact, you will cook your asparagus upright in salted water but cold at the start.
Close your pan with film, so that your tips steam, under a low heat, the water simmers.
Allow between 20 and 25 minutes, depending on the size.
Let cool, to serve your asparagus.
Preparation time: 15 minutes
Cooking time: 20 to 25 minutes
Number of people: 4
4 star rating: 1 review
What wine to drink with asparagus?
My favorite wine for this recipe Alsace tokay Grape variety: Pinot gris
Temperature between 11 ° and 12 °
Thank you to Rosabel de Vesoul store for its dishes.
Thanks to my friend Thibaut Bouvier for all his photos.
Finally, thank you to my son, what a joy to cook with you.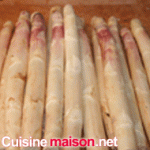 Asparagus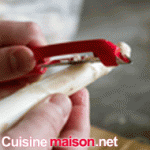 Peel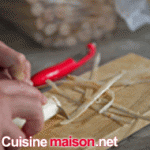 Cut off the foot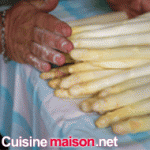 Store the asparagus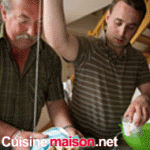 Tie up the package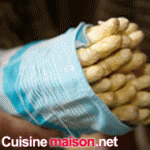 Ready to cook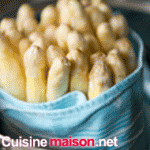 Put in water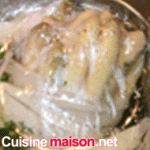 Cook under film