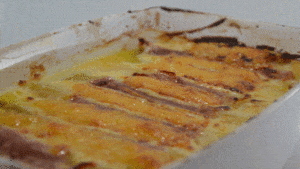 Leeks with ham and béchamel recipe
Ham leeks with béchamel, a different version to change endives with ham, I particularly like this leek gratin with ham. Leeks and cheese a beautiful marriage for an evening dinner with the family, a small béchamel sauce, all well au gratin and it's done. Leek is the vegetable of the whole year, of course it is even better when spring arrives. But it is present on market shelves all year round. It is also found in the gardens and there it is even better. Choose a quality cheese to brown this dish well, because the visual is important, I like to see my guests drooling in front of the dish…. I admit that I'm a little crazy, when I see the time I spend to receive my friends , but we do not remake ourselves.
Ingredients
Leeks with ham and béchamel recipe for 2 people:
6 leek whites
6 slices of raw ham
100 g of Comté
Salt and pepper
40 g of flour
40g butter
50 cl of raw milk
Instructions
Preheat the oven to 200 °
Wash the leeks with plenty of water
Separate all the green leaves and keep only the white part.
Steam for 8 to 10 minutes, then let stand upright to evacuate as much water as possible.
Roll a slice of raw ham around your leek whites on a board.
Place in a buttered baking dish.
Repeat the operation until all your leek whites are used up.
Melt the butter in a saucepan.
Add the flour and stir without letting it stick.
Gradually add milk, stirring all the time.
Salt and pepper
Grate the nutmeg.
Pour the béchamel sauce over the leeks to coat your preparation.
Sprinkle generously with cheese
Gratinate in the hot oven for 10 minutes.
Preparation time: 10 minutes
Cooking time: 10 minutes
Number of people: 2
4 star rating: 1 review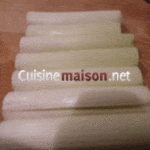 Cook the leek whites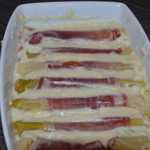 Add the béchamel sauce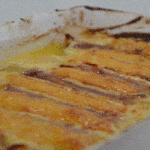 What wine to drink with: Leeks in ham with béchamel sauce
My favorite wine for this recipe: Rosé Bordeaux (Red) Grape Gamay
Temperature between 13 ° and 14 °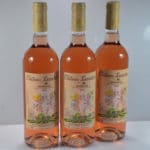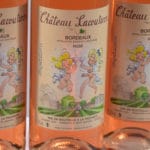 Partnership with Château Lacouture in Gauriac in Gironde
A thought to all those connected from France or abroad in love with French cuisine and its wines, here is a great opportunity for you to buy a quality wine, without any risk, to accompany my recipe for Leeks with ham with bechamel sauce. I selected this Bordeaux rosé wine from the Château Lacouture estate after tasting it, I loved it.
Château Lacouture rosé
Dry rosé and a little full-bodied, full of freshness, it had already appealed to us before tasting it with its label, full of fantasy, a real crush before tasting it. Ideal for the freshness of a tree in the middle of summer, yes I love it, on a blanket and Cupid watching. Of course here, it is especially the women who are crazy about it, I am talking about rosé of course, although …
Chateau Lacouture
3 route du Fronton
37710 Gauriac
Phone: 05 57 64 82 31
Mail: chateaulacouture [at] orange.fr </p