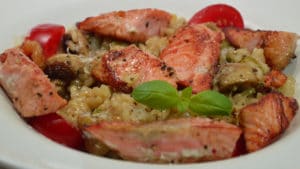 Salmon and Mushroom Risotto Recipe
We really like the risottos and especially those with fish, here cubes of salmon still pink, they were soft and tasty. Arborio rice is the most popular we find in all supermarkets, its cooking remains very important, it must be creamy, we add the liquid as it evaporates, do not stir and add of Parmesan cheese should be done at the end. Add the tasty vegetables to flavor the rice, celery branch, fennel, but also aromatic herbs that you will add at the end. Risotto with salmon and mushrooms, just for my daughter she loves these two ingredients, long live Italy and its risottos.
Salmon and mushroom risotto recipe for 2 people:
Ingredients
1 stalk of celeriac
2 tablespoons of olive oil
4 large button mushrooms
1 nice onion
100 g Arborio rice
1 vegetable maggi cube
300 g cubed wild salmon
15 cl of dry white wine
50 g of grated Parmesan
Instructions
Rinse the celery stalk, then cut it finely.
Peel the onion, cut it in four, then finely chop.
Brush the mushrooms, then cut them into quarters.
Heat a pan with a spoon of olive oil.
Add the onion to the hot oil.
Add the celery stalks as soon as the onions are translucent.
Pour the rice add a spoonful of oil and leave it a little toasted.
Season generously with salt and pepper.
Cover the rice with the wine and reduce to dryness.
Dissolve the cube of vegetables in boiling water.
Pour in the scented water and complete to cover the rice, add water regularly.
It takes between 17 and 18 minutes for the rice to cook.
Grate the Parmesan and add it at the end of cooking.
Cook the salmon, serving it pink.
Grate a little Parmesan cheese directly onto the plate before serving.
Preparation time: 20 minutes
Cooking time: 18 minutes
Number of people: 2
4 star rating: 1 review
What wine to drink with: Risotto with salmon and mushrooms
My favorite wine for this recipe: Bordeaux rosé Grape variety Cabernet Franc and Sauvignon
Temperature between 11 ° and 12 °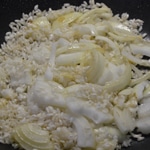 Grill the rice and mushrooms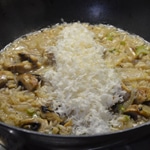 Add the Parmesan at the end of cooking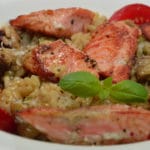 A thought to all those connected from abroad in love with French cuisine and its wines, here is a great opportunity for you to buy a quality wine, to accompany my recipe for Risotto with salmon and mushrooms. I selected this rosé Bordeaux wine from Château Caminade Haut Guerrin after tasting it, I loved it. Its pale and limpid color and its notes of red fruits. To be enjoyed fresh without being too cold. Www.caminadehautguerin.com
Caminade vineyard
1758 route de Moulon
33420 Génissac
Phone 05 57 50 29 72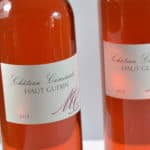 Zoom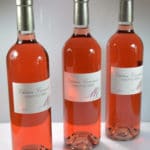 Rosé bottles