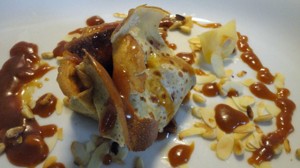 Recipe: Aumônières with apples and salted caramel
Recipe aumônières with apples and salted caramel, this is how to finish a good meal, it rained all day. Apple confit for this aumônière, a bit like tarte Tatin, a dab of cream and the pancake is ready. Apple recipe to finish off the autumn stocks, dressed in pancakes, apples were in the spotlight at Hélène and Etienne. Aumônière with apple and salted caramel, what a delight this caramel sauce, I love this caramel.
Recipe ingredients
Recipe for Apples and salted caramel for 10 people:
For the salted caramel
180 gr caster sugar
60 gr salted butter
13 cl of 33% fluid cream
For the pancakes
4 eggs
½ liter of milk (if possible raw milk)
200 g flour
1 large tablespoon of olive oil
100 g butter
For the apple confit
250 gr of butter
400 gr of sugar
6 firm apples
200 gr of pine nuts
125 gr of flaked almonds
Instructions
Prepare your pancake batter as HERE, the day before. Make large pancakes.
Fold the pancakes in 4, then wrap them in film and let rest in the refrigerator.
Salted caramel
Heat the sugar to dryness in a pan.
Stir with a wooden spoon, incorporating the sugar still in crystals.
Gradually add the very cold cream to the melted caramel.
Stir in the cold butter in small pieces off the heat.
Leave the caramel to cool in the refrigerator for half an hour.
Candied apples
Melt the butter and sprinkle the sugar over your melted butter.
Let the sugar gently caramelize.
Peel the apples, removing the middle.
Slice them in half and place them gently on your butter, be careful not to burn it.
Let the juice from the apples evaporate; they must be cooked.
Squeeze the apples as they cook, they should be the color of your caramel.
Turn the apples over. Stop cooking the apples once they are cooked.
Keep the apples hot in an oven at 80 °.
Heat a dry pan with the pine nuts and flaked almonds, then set aside.
Heat the pan with butter and bring the pancakes back to temperature.
Place half an apple in the center of the pancakes.
Add pine nuts and almonds.
Close the pancake in the shape of an almoon, reserve in the oven while you assemble the other pancakes.
Server on the plate, dripping salted caramel around the pancakes.
Store the pancakes in an oven at 80 °, without the caramel sauce.
Preparation time: 30 minutes
Cooking time: 20 minutes
Number of people: 10
4 star rating: 1 review
What wine to drink with: Salted butter apple aumônières
My favorite wine for this recipe: Alsace Pinot Blanc Grape Pinot Blanc
Temperature between 10 ° and 12 °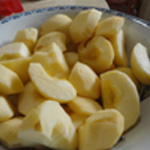 Cut the apples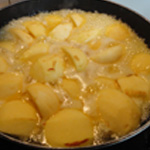 Bake the apples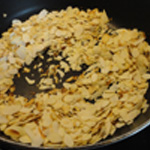 Toast the almonds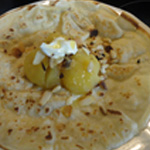 Cream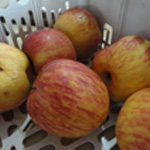 Peel the apples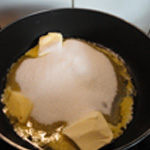 Butter and sugar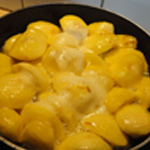 Roasted apples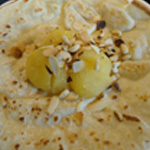 Place half an apple<img src="/wp-content/uploads/2021/09/6087518220989532532.jpg" class="aligncenter"