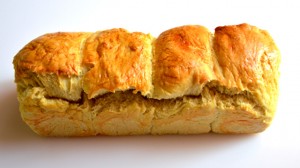 Recipe: Brioche
Brioche recipe, nothing like a homemade brioche, this is my first I think my recipe will still evolve. I liked working with this brioche dough, I loved its scent, it is already good before baking. With farm eggs it must be another size, you really have to let the dough rise for at least 3 hours. I will test other recipes, chocolate brioches, raisins, of course I will put the most interesting online.
Recipe ingredients
Brioche recipe for 2 pieces:
450 g flour
1 teaspoon of fine salt
1 tablespoon of sugar
4 eggs
250 g butter
40 g brewer's yeast
Instructions
The day before :
Mix the flour, salt and sugar in the mixer with the hook.
Break 4 whole eggs and start beating.
Add the soft melted butter, 2 tablespoons of water and the yeast.
Beat the dough for 10 minutes and place it in the refrigerator overnight.
The next day :
Divide the dough ball into 4.
Roll out each ball of dough into a rectangle.
Fold it in 4.
Extend and fold several times.
Spread it out and roll it into a cylinder.
Let rise for at least 3 hours, covered with a cloth in a warm room.
When the brioche is risen, brown it with egg.
Put it in the cold oven.
Then put the thermostat on 5/6, without opening the oven for 25 to 30 minutes.
Number of buns: 2
Cooking time: 30 minutes
4 star rating: 1 review
What wine to drink with: Brioche
My favorite wine for this recipe: Riesling Late Harvest Grape Riesling
Temperature between 08 ° and 10 °
Thanks to François and Bernadette for their brioche recipe and their explanations
Break the eggs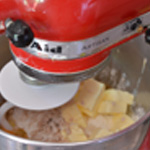 Knead with a mixer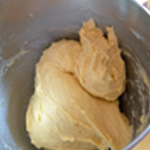 Ready dough well rolled up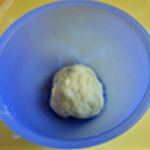 Let rest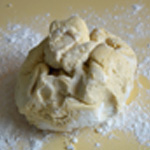 The dough to rise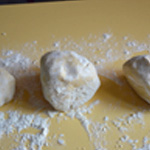 Split into three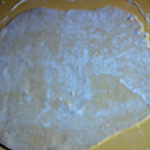 Spread again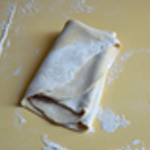 To fold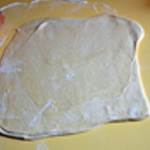 Spread again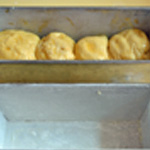 Ready to cook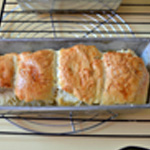 Cooked