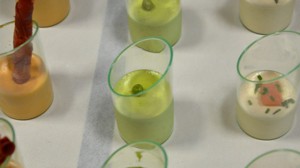 Recipe: Panna cotta with peas
Recipe for pea panna cotta, to accompany the aperitif or for a dinner aperitif, I like the beautiful green color of this panna cotta, slightly sweet it will leave no one indifferent. You can accompany the pea panna cotta with a stick of raw ham that you have previously baked. Of course if you have peas from the garden you can use them, I used frozen peas and it was very good.
Recipe ingredients
Recipe for panna cotta with peas for 10 people:
500 g peas
25cl of liquid cream
2 tablespoons of parmesan
½ teaspoon of curry
10 basil leaves
1 tablespoon chopped chives
0.5 g of agar agar
Instructions
Cook the peas in a small volume of salted water for 8 to 10 minutes.
Rinse the basil leaves and dry them with food paper.
Rinse the chives and dry them with food paper.
Chop the chives.
Roughly chop the basil.
Heat the preparation.
Reserve 20 peas for decoration.
Mix the peas with the basil leaves, cream, curry and Parmesan.
Return to temperature from the first broth, add the agar agar.
Salt and pepper.
Pour into the verrines and place in the refrigerator for at least an hour.
Sprinkle a little chives and add a pea per verrine.
Preparation time: 20 minutes
Cooking time: 10 minutes
Number of people: 10
4 star rating: 1 review
What wine to drink with: Pea panna cotta
My favorite wine for this recipe: Bourgogne Chardonnay blanc Cépage Chardonnay
Temperature between 11 ° and 13 °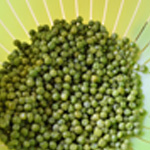 Pea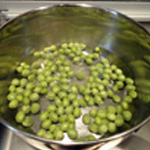 Cook the peas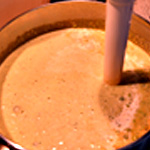 Mixer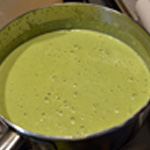 Let cool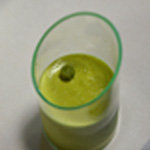 Zoom