Recipe: Banana mousse
Banana mousse recipe for dessert, my friend Beatrice still had black bananas unfit for sale but still so good. Easy to make recipe I flavored my mousse with powdered cinnamon. Banana dessert recipe an interesting fruit indeed it is found all year round. Dessert with bananas at home we never tire of this fruit; a mousse that changes from chocolate mousse, syrup and whipped cream make this banana mousse a fairly light dessert, in any case the children loved it.
Recipe ingredients
Banana mousse recipe for 4 people:
6 bananas
15 cl of heavy or semi-thick cream
10 cl of water
½ lemon
2 tablespoons of icing sugar
1 teaspoon ground cinnamon
2 gelatin sheets
2 tablespoons of powdered sugar
Instructions
Soften the gelatin sheets in cold water.
Heat the water with the powdered sugar, boil for 5 minutes.
Stir the gelatin leaves into the syrup.
Squeeze a ½ lemon then add it to the syrup
Let the syrup cool.
Mix the bananas into a fine purée, add the cinnamon, mix well and set aside.
Add the cold syrup and incorporate it with the bananas.
Whip the cream into a whipped cream, very firm.
Add the icing sugar to the whipped cream as soon as it is mounted.
Mix the mashed bananas with the cinnamon and the whipped cream.
Let stand overnight in the refrigerator.
Preparation time: 15 minutes
Cooking time: 0 minutes
Number of people: 4
4 star rating: 1 review
What wine to drink with: Banana mousse
My favorite wine for this recipe: Smoked Pouilly Grape Sauvignon Blanc
Temperature between 09 ° and 10 °
Choose well ripe bananas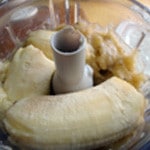 Mix the bananas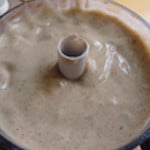 Add cinnamon
Gelatin sheets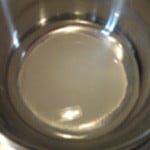 Water and sugar
Boil the syrup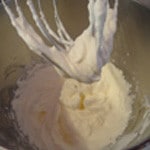 Whip the whipped cream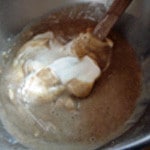 Mix whipped cream and bananas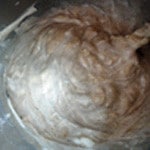 Incorporate the mousse well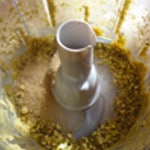 Mix the pistachio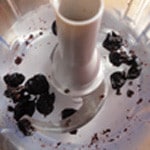 Mix the cramberies