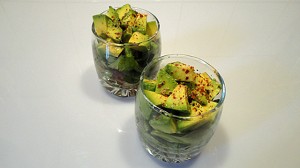 Recipe: Avocado verrine
Recipe Avocado verrine, nothing like it to whet your appetite, they were very ripe but not yet dark. I added sundried tomatoes in my verrine, I like their tastes and especially their aromas, I noticed that in winter I use more and more sundried tomatoes preserved in oil. Very beautiful colors with this avocado verrine, the little extra a pinch of red pepper on the petal.
Recipe ingredients
Recipe Avocado verrine for 2 people:
40 g of sundried tomatoes
25 g lamb's lettuce
1 turn of the pepper mill per verrine
A touch of garlic semolina
1 teaspoon of pine nuts
1 pinch of fleur de sel
4 teaspoons of almond oil
2 teaspoons of apple cider vinegar.
Instructions
Rinse the lamb's lettuce under the tap, then wring it out.
Slice the sun-dried tomatoes into small cubes.
Mix tomatoes and lamb's lettuce.
Salt and pepper.
Pour in the almond oil then the cider vinegar, add the garlic, turn the salad.
Half fill the verrines with salad.
Cut the avocados in half, remove the pit.
Collect the flesh and cut it into small cubes.
Place the avocados in the verrines.
Add the red berries and peppercorns.
Preparation time: 20 minutes
Cooking time: 0 minutes
Number of people: 2
4 star rating: 1 review
What wine to drink with: Avocado verrine
My favorite wine for this recipe: Cote de Provence rosé Grape Grenache noir; Cinsault; Syrah
Temperature between 08 ° and 10 °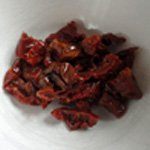 Dried tomato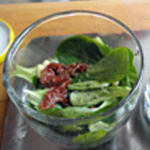 Add the mache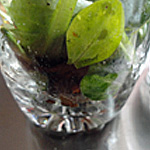 Zoom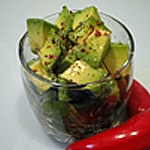 Ask the avocado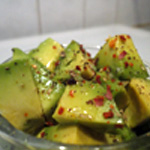 Zoom