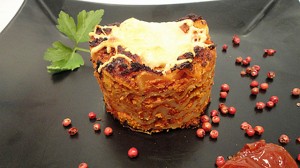 Recipe: Ham lasagna
Ham lasagna recipe. Here is how to prepare lasagna, I made my dough but for convenience you can use ready-made and often pre-baked plates. Recipe for meat lasagna, You have to roast the chicken with spices to give it more flavor. Chicken lasagna accompanied with a nice green salad for a dish to do in summer as in winter, I also like added seasonal herbs. Recipe for homemade lasagna cooked with ham and chicken breasts, you can enjoy them as part of a diet.
Recipe ingredients
Ham lasagna recipe for 12 people:
1,500 kg of chicken breasts
600 gr of white ham
600 gr Emmental
2 tablespoons of soy sauce
3 onions
3 boxes of peeled tomatoes
500 gr of peppers in strips
2 teaspoons of sweet paprika
½ teaspoon of black pepper
1 teaspoon of coarse salt
3 sugar cubes
50g frozen basil
750 g lasagna dough (see the fresh pasta page) or use ready-made sheets
Instructions
Peel and finely chop the onions.
Bake the chicken breasts for ½ hour in the oven at 180 °, with 2 tablespoons of soy sauce and Espelette pepper.
Brown the onions in a large Dutch oven with a tablespoon of olive oil.
Add the basil.
Pour in the peeled tomatoes and cook gently for two hours.
Mix the tomato sauce.
Chop the ham then add it to the tomato sauce
Bake the chicken breasts in the oven for 20 minutes at 200. °
Butter a baking dish,
Start with a ladle of tomato meat sauce, spread it well at the bottom of the dish.
Then a layer of dough.
A layer of tomato sauce with meat, a layer of dough.
A layer of tomato sauce with meat, a layer of dough.
Add the 100g of grated cheese.
A layer of tomato sauce with meat, a layer of dough until all the ingredients are used up.
Finish with the grated cheese.
Place in a hot oven for 45 minutes at 190 °,
Use the grill if the top is not browned enough.
Preparation time: 60 minutes
Cooking time: 45 minutes
Number of people: 12
4 star rating: 1 review
What wine to drink with: Ham lasagna
My favorite wine for this Cornas Grape variety recipe: Syrah
Temperature between 18 ° and 19 °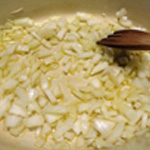 Sweat the onions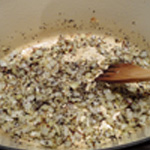 Add the herbs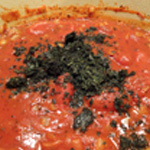 Tomato sauce and herbs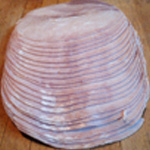 Slice the ham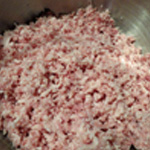 Mix the ham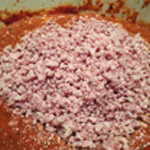 Add the ham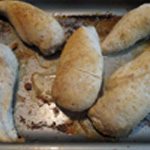 Grill the chicken in the oven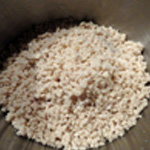 Mix the chicken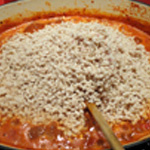 Add the chicken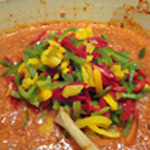 Cut the peppers into strips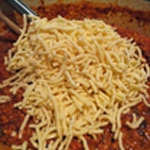 Add cheese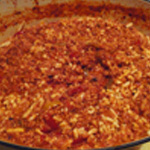 Let reduce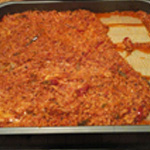 Alternate layers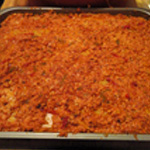 Cover with cheese<img src="/wp-content/uploads/2021/09/5358361916277027505.jpg" class="aligncenter"