Recipe: Beef broth
Oxtail broth recipe, I like this soup with the taste of oxtail. But I especially like to taste the oxtail after cooking it in the soup. A nice tasty recipe, with winter approaching, it remains a good intake of calories. Oxtail broth, here with some vegetables for a generous soup. A bit long cooking for a soup, but it will aromatize as it is cooked. You will love this oxtail broth.
Recipe ingredients
Oxtail broth recipe for 8 people:
1 Oxtail
1 stalk of celery
1 leek
1 tablespoon of olive oil
2 large tomatoes
1 fennel
250 gr carrots
1 onion
70 gr of tomato paste
1 teaspoon of harissa
1 teaspoon of coarse salt
Instructions
Heat a casserole dish with olive oil.
Grill the oxtail on all sides.
Season generously with salt and pepper.
Rinse the vegetables with plenty of water.
Thinly slice the celery stalks, leek and onion, place in the casserole dish.
Remove the core from the tomatoes, cut into eight and add to the preparation.
Slice the turnip and fennel into rings, then cubes, then add.
Pour the water so that the vegetables bathe in the soup.
Add the tomato paste.
Add the harissa, diluting it a little with the broth.
Simmer for 90 minutes.
Preparation time: 10 minutes
Cooking time: 1 hour (s) 30 minutes
Number of people: 8
4 star rating: 1 review
What wine to drink with: Oxtail broth
My favorite wine for this recipe: Bourgueil Cépage Cabernet Franc and Sauvignon
Temperature between 14 ° and 16 °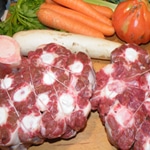 Oxtail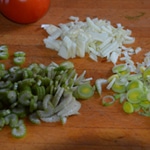 Parsley, celery and onion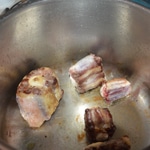 Grab the tail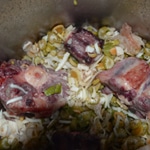 Add the herbs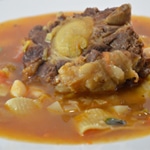 Zoom