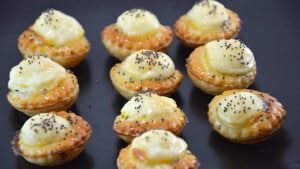 Recipe: Babybel puff pastry
Babybel puff pastry recipe here is a little puff pastry for the aperitif that will delight the children, I used Babybel, which had a great effect. This cheese is ideal for this kind of recipe, it melts very well but does not run. But it is above all a cheese whose milk comes to us from Normandy. Always looking for new ideas for my priorities, I make you enjoy each time the new things served on my table. Admit that the choice is not lacking and it is not over, I still have plenty of ideas. But cheese puffs are still my favorite, I love it when the cheese melts and spills generously over the puff pastry, even creating quirky shapes. In any case there is never enough …….
Recipe ingredients
Babybel puff pastry recipe for around 30 prints:
1 roll of puff pastry
9 Babybel
1 tablespoon of poppy seeds
2 egg yolks
Instructions
Roll out the dough very cold.
Cut the dough with a cookie cutter.
Place the puff pastry circles in the silicone mold.
Place the scraps of puff pastry on top of each other.
Roll out again and cut with the circle, no waste.
Prick the dough with a fork.
Peel the Babybel.
Cut the Babybel in four.
Place a Babybel cube on each puff pastry imprint.
Sprinkle generously with poppy seeds.
Place in a hot oven for 17 minutes.
Enjoy lukewarm.
Preparation time: 10 minutes
Cooking time: 17 minutes
Number of people: 4
4 star rating: 1 review (s)
What wine to drink with: Babybel puff pastry
My favorite wine for this recipe: Arbois Savagnin grape Savagnin
Temperature between 07 ° and 09 °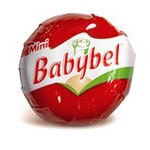 The Babybel
Remove paper and wax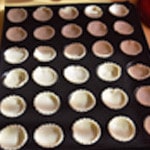 Fill the mold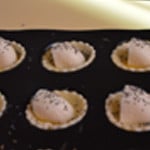 Cut the Babybel in four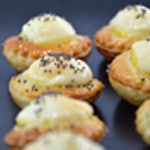 Zoom