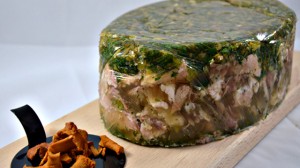 Recipe: Parsley ham
Parsley ham recipe, for a starter to eat with friends. I particularly like this kind of generous terrine, with large pieces of almost candied ham. Deliciously flavored with calf's foot and white wine, I love this meat that has simmered for a long time and gently. Parsley ham recipe, you will love this starter to serve with a good Burgundy. Parsley ham to start a lunch with friends, lightly candied you will devour this beautiful terrine. It is also called easter ham
Recipe ingredients
Parsley ham recipe for 10 people:
1 kg of ½ salt pallet
600 g half salted breast
600 d half-salted ham
50 cl of Edelzwicker white wine
1 calf's foot, sliced in half
2 onions
2 carrots
2 stalks of celery
1 leek
1 bouquet garni
1 tablespoon of peppercorns
5 juniper berries
4 cloves
1 bunch of flat-leaf parsley
5 cloves of garlic
3 tablespoons of capers
20 pickles
Instructions
Desalt the meat in cold water for 48 hours.
Change the meat several times.
Rinse all the celery and parsley.
Peel the carrots, onion and garlic.
Remove the leaves from the parsley, then tie the stems with a string.
Place the meat in a casserole dish.
Add the calf's foot.
Cut the vegetables into large cubes, then add them.
Add the parsley sprigs, pepper, berries, bouquet garni and cloves.
Pour in the wine and cover with water.
Bring to a boil, then skim and simmer for 4 hours.
The meat should come off the bones.
Drain the meat, degrease and remove the rinds.
Filter the cooking juices.
Let cool and degrease.
Cut the meat into large cubes.
Finely chop the parsley and garlic.
Crush the pickles and capers.
Combine the condiments in a bowl.
Film the terrine.
Assemble the terrine, starting with the meat, then the condiments.
Repeat until all the products are used up.
Finish with the herbs.
Pour in the cooking juices and cover the terrine.
Let stand in the refrigerator for 48 hours.
Preparation time: 35 minutes
Cooking time: 4 hour (s)
Number of people: 12
4 star rating: 1 review
What wine to drink with: Parsley ham
My favorite wine for this recipe: Auxey-Duresses Grape Pinot Noir
Temperature between 15 ° and 16 °
Source: Saveur magazine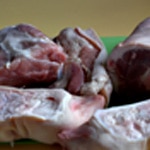 Meat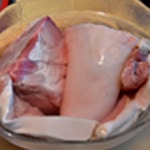 Dice salt the meat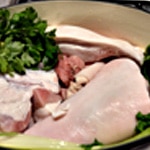 Meat in the casserole dish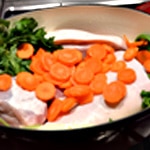 Add the carrots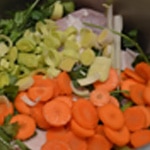 Add the leek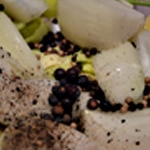 Juniper berry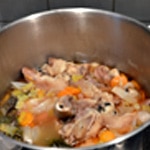 Cook the meat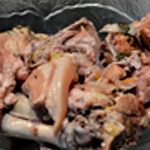 Cooked meat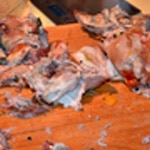 Boning the meat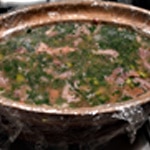 Terrine to cook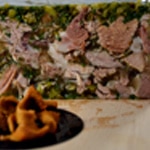 Zoom<img src="/wp-content/uploads/2021/09/8349546757916420451.jpg" class="aligncenter"