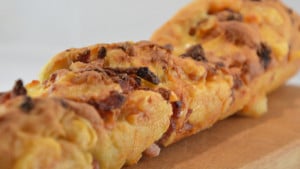 Bacon and Comté bread recipe
Instructions
Bacon and Comté bread recipe, it's my favorite, I love its smoky smell and the Comté flavor, it's the first that disappears from the bread basket. Of course if you are lucky enough to find a country smoked bacon, it will give your bread even more flavor. I like it when the Comté takes out a bit of the bread and toasts around it, then it gets brittle and it's divine. Making homemade bread is very rewarding, you know what you tasted, testing is approved. I don't use a bread maker so it's always different. This bacon and Comté bread is also perfect for your dinner aperitifs, paired with rillettes or terrines or even plain.
Recipe ingredients:
Bacon and Comté bread recipe for 4 baguettes:
150 gr of old Comté
100 gr of smoked bacon in lardons
800 gr of type 55 flour
430 gr of water
16 gr of salt
1 cube of fresh baker's yeast
1 baguette baking sheet (recommended)
Instructions
Preheat the oven to 230 °
Mix lukewarm water at 20 ° with the baker's yeast.
Weigh the flour and mix with the salt.
Pour in the water, beat and knead with the hook at the 1st level for 15 minutes.
Lightly flour the bottom of a salad bowl.
Place the ball of dough in the floured bowl.
Cover with a clean tea towel.
Let stand and rise for an hour, near a heat source, radiator or sun.
Lightly flour the work surface.
Place the raised ball on the plane.
Expel the air by pressing with the palm of the hand.
Flatten the dough and incorporate the bacon and Comté.
Knead well by hand.
Cut into four pieces.
Roll the first dough with the flat of your hand, starting in the middle and going to the ends.
Generously flour the baking sheet.
Place the first baguette and repeat the operation three times.
Lightly flour the top of the baguettes.
Cut a few notches on the top of the chopsticks.
Cover with the tea towel and let rise for at least an hour.
Bake in the middle of a hot oven for 10 minutes.
Lower the oven to 210 ° and continue cooking for 30 minutes.
Take out of the oven as soon as the baking is finished and let the homemade bread cool before eating it.
Preparation time: 20 minutes
Cooking time: 40 minutes
Number of people: 4 baguettes
4 star rating: 1 review
Ingredients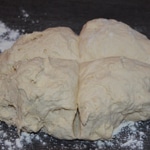 Let the dough grow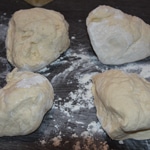 Cut in four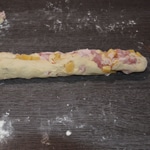 Add the bacon and Comté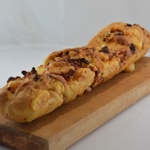 Zoom