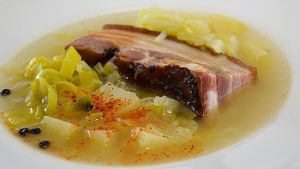 Recipe: Bacon soup
Bacon soup recipe, here is a nice, slightly scented smoky recipe. We loved this generous piece on the plate. The smoked belly here is regional. We have plenty of smoked products available, Franche Comté is known for these charcuterie products. Soups, in winter, is our opportunity to eat vegetables. Cooked in a broth, they pleasantly perfume the soups, we see tons of them on the blogosphere. I will present you soon a version with cabbages.
Recipe ingredients
Bacon soup recipe for 4 people:
2 large leeks
3 large potatoes
400 g of smoked bacon
1 teaspoon of coarse Guérande salt
10 juniper berries
2 turns of a pepper mill
1 pinch of Espelette pepper
2 bay leaves
1 liter of water
Instructions
Lightly grill the piece of smoked breast on a grill without fat.
Turn over and color on all sides.
Cover with water and simmer for 30 minutes at a low simmer.
Add the bay leaf and berries.
Prepare the leeks by slitting them in half and rinse under cold water.
Finely slice the leeks.
Reserve the leeks.
Peel and wash the potatoes, cut into small pieces.
Add the potatoes, then after 10 minutes
Add the leeks and cook for another 20 minutes.
Preparation time: 20 minutes
Cooking time: 35 minutes
Number of people: 4
4 star rating: 1 review
What wine to drink with: bacon soup
My favorite wine for this Beaujolais (red) recipe Grape varieties: Gamay
Temperature between 11 ° and 12 °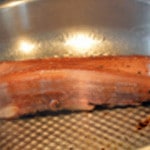 Grill the bacon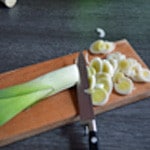 Cut the leeks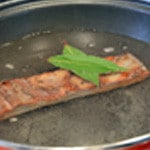 Cook the bacon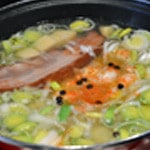 Add the vegetables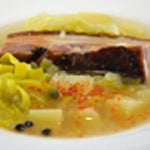 Zoom